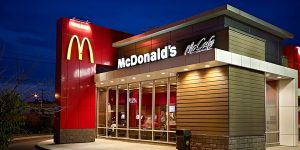 It is no big secret that the once undisputed leader of the fast food industry, McDonald's, has been struggling to keep pace with new options on the market. This is particularly true in terms of higher consumer demand for healthier options and more accountability. Fresh food is not only better for you, but it tastes better; and while fresh is food is certainly little more expensive, consumers continue to flock elsewhere for better tasting (and better-for-you) fare.
With that in mind, though, McDonald's announced, on Thursday, a plan to reintroduce one of its long-time signature burgers—The Quarter Pounder w/ Cheese—will be made with fresh beef patties.
This announcement comes on the heels of executives admitting, earlier this month, that the company's extremely loyal customer base has shrunk by "hundreds of millions" of visits. Perhaps more importantly, the franchise is quite aware that its traditional rival—Wendy's–consistently markets is use of fresh—not frozen—beef patties. And Wendy's has been so successful in this campaign that it continues to edge closer and closer to "better" burger chains like Five Guys Burgers & Fries and Smashburger.
Edward Jones analyst Jack Russo comments, "Consumers are demanding more in terms of health and wellness. They want to know what's in their products."
Now, this changeover from McDonald's is not going to take place right away. The company wil begin this exchange next year in most of the its US properties.
But apparently this is not the end of it. The company might also be looking to make this 100 percent fresh beef change menu-wide. Indeed, every McDonald's sandwich could be made from fresh patties—from the Big Mac to the McDouble.
McDonald's USA president Chris Kempczinski shares, "By no means are we done. This is a first step." He goes on to say that the Quarter Pounder was the first burger where they instituted the change because it "is right up there with the Big Mac as we think of iconic products. It's where we have most demanding customers."
This is a somewhat fascinating change, too, since—as Kempczinski notes—the nutritional value is the same between fresh and frozen burgers. The fresh burgers, he explains, just taste better. He describes: "When you're cooking a fresh patty on the grill, you need to cook it less. Faster cook time on the grill means you have better flavor retention and it comes right off the grill and is delivered to the customer."