Sonova Holding AG (OTCMKTS:SONVY – Get Rating) has been given a consensus rating of "Hold" by the eight analysts that are currently covering the stock, MarketBeat reports. Two research analysts have rated the stock with a sell rating and four have issued a hold rating on the company. The average 12 month price target among brokerages that have updated their coverage on the stock in the last year is $312.00.
A number of equities analysts have recently commented on the company. Barclays lifted their price objective on Sonova from CHF 290 to CHF 330 in a research note on Tuesday, November 22nd. Citigroup assumed coverage on Sonova in a research note on Monday, December 12th. They issued a "sell" rating on the stock. Finally, Jefferies Financial Group lowered Sonova from a "buy" rating to an "underperform" rating in a research note on Wednesday, January 25th.
Sonova Trading Up 0.3 %
Sonova stock opened at $53.07 on Friday. The business's 50-day simple moving average is $51.06 and its 200-day simple moving average is $49.27. Sonova has a 52 week low of $41.59 and a 52 week high of $85.05.
About Sonova
(
Get Rating
)
Sonova Holding AG engages in the development and production of hearing care solutions. It operates through the Hearing Instruments and Cochlear Implants business segments. The Hearing Instruments segment includes the activities related to the design, development, production, distribution, and servicing of hearing instruments and related products.
See Also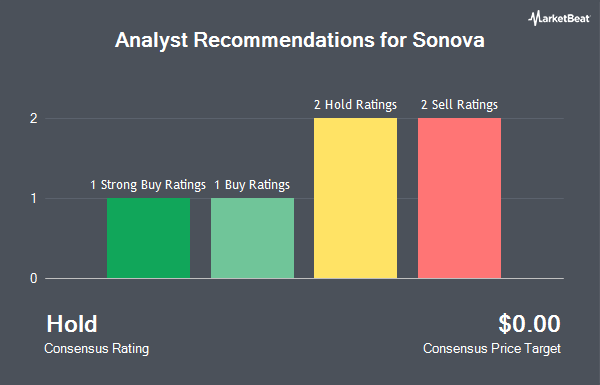 Receive News & Ratings for Sonova Daily - Enter your email address below to receive a concise daily summary of the latest news and analysts' ratings for Sonova and related companies with MarketBeat.com's FREE daily email newsletter.