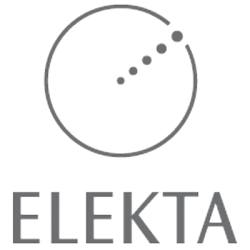 ELEKTA AB/ADR (OTCMKTS:EKTAY) – Research analysts at Jefferies Financial Group issued their FY2020 earnings per share (EPS) estimates for ELEKTA AB/ADR in a note issued to investors on Thursday, December 5th. Jefferies Financial Group analyst K. Lee expects that the company will earn $0.39 per share for the year. Jefferies Financial Group also issued estimates for ELEKTA AB/ADR's FY2021 earnings at $0.49 EPS, FY2022 earnings at $0.57 EPS and FY2023 earnings at $0.63 EPS.
Several other research analysts have also recently commented on EKTAY. Zacks Investment Research cut shares of ELEKTA AB/ADR from a "buy" rating to a "hold" rating in a report on Monday, November 18th. ValuEngine lowered shares of ELEKTA AB/ADR from a "hold" rating to a "sell" rating in a research note on Thursday, November 14th.
Shares of
EKTAY stock
opened at $11.97 on Monday. The company's fifty day simple moving average is $13.30 and its 200-day simple moving average is $13.30. The company has a quick ratio of 0.86, a current ratio of 1.08 and a debt-to-equity ratio of 0.46. The firm has a market cap of $4.67 billion, a PE ratio of 36.26, a P/E/G ratio of 2.61 and a beta of 0.42. ELEKTA AB/ADR has a 12 month low of $10.95 and a 12 month high of $14.76.
ELEKTA AB/ADR Company Profile
Elekta AB (publ) provides equipment and software for cancer and brain disorders worldwide. The company offers radiotherapy systems under the Versa HD, Precise Treatment System, and Elekta Compact names; Elekta Infinity, an image-guided radiation therapy (IGRT) system; and Elekta Synergy, a digital accelerator for advanced IGRT.
Further Reading: Why Invest in Dividend Achievers?
Receive News & Ratings for ELEKTA AB/ADR Daily - Enter your email address below to receive a concise daily summary of the latest news and analysts' ratings for ELEKTA AB/ADR and related companies with MarketBeat.com's FREE daily email newsletter.