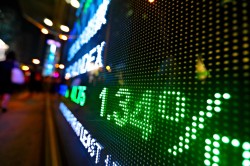 Shore Capital Group Ltd (LON:SGR) shares hit a new 52-week low on Tuesday . The company traded as low as GBX 180 ($2.35) and last traded at GBX 185 ($2.42), with a volume of 560 shares trading hands. The stock had previously closed at GBX 185 ($2.42).
The firm has a market capitalization of $39.91 million and a price-to-earnings ratio of 14.80. The business's 50-day simple moving average is GBX 197.26 and its two-hundred day simple moving average is GBX 213.60. The company has a quick ratio of 2.35, a current ratio of 2.50 and a debt-to-equity ratio of 6.51.
Shore Capital Group Company Profile (LON:SGR)
Shore Capital Group Limited offers corporate advice; a market-making business; investment research available in the United Kingdom, and a range of investment opportunities within its asset management and principal finance activities. The Company's segments include Capital Markets, Asset Management, Central Costs and Principal Finance.
Read More: What are catch-up contributions?
Receive News & Ratings for Shore Capital Group Daily - Enter your email address below to receive a concise daily summary of the latest news and analysts' ratings for Shore Capital Group and related companies with MarketBeat.com's FREE daily email newsletter.