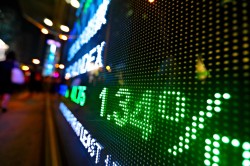 Wellcom Group Limited (ASX:WLL)'s share price rose 0.4% on Wednesday . The stock traded as high as A$6.85 ($4.86) and last traded at A$6.85 ($4.86), approximately 202,881 shares were traded during mid-day trading. The stock had previously closed at A$6.82 ($4.84).
The company has a 50 day moving average of A$5.71. The company has a market cap of $268.72 million and a P/E ratio of 21.75. The company has a debt-to-equity ratio of 20.38, a quick ratio of 1.57 and a current ratio of 1.82.
Wellcom Group Company Profile (ASX:WLL)
Wellcom Group Limited provides advertising and marketing content production and content management services in Australia, the United Kingdom, New Zealand, Asia, and the United States. The company offers creative production services, studio creative, photography, and retouching; adaptation services for print, digital, and video content; and Knowledgewell, a marketing software for marketing resource, campaign, digital asset, workflow, and print management.
Featured Story: What are the benefits of investing in REITs?
Receive News & Ratings for Wellcom Group Daily - Enter your email address below to receive a concise daily summary of the latest news and analysts' ratings for Wellcom Group and related companies with MarketBeat.com's FREE daily email newsletter.