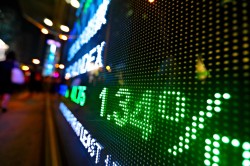 CBS (NYSE:CBS.A) was upgraded by equities researchers at TheStreet from a "c+" rating to a "b" rating in a research report issued to clients and investors on Thursday, TheStreetRatingsTable reports.
NYSE CBS.A traded up $0.12 during trading hours on Thursday, hitting $53.15. The company's stock had a trading volume of 1,671 shares, compared to its average volume of 5,281. CBS has a 52 week low of $41.48 and a 52 week high of $59.31. The company's 50-day moving average price is $49.61. The company has a debt-to-equity ratio of 2.35, a current ratio of 1.50 and a quick ratio of 1.16. The stock has a market capitalization of $19.92 billion, a P/E ratio of 10.14 and a beta of 1.08.
CBS (NYSE:CBS.A) last released its quarterly earnings data on Thursday, May 2nd. The company reported $1.37 earnings per share for the quarter. The business had revenue of $4.17 billion during the quarter. CBS had a net margin of 20.32% and a return on equity of 66.79%.
CBS Company Profile
CBS Corporation is a mass media company. The Company operates through four segment: Entertainment, Cable Networks, Publishing, Local Media. The Entertainment segment comprises the CBS TV Network; CBS TV Studios; CBS Studios International and CBS TV Distribution; CBS Interactive; CBS Films; and the Company's digital streaming services, CBS All Access and CBSN.
Recommended Story: Does a trade war provide a risk to the global economy?
Receive News & Ratings for CBS Daily - Enter your email address below to receive a concise daily summary of the latest news and analysts' ratings for CBS and related companies with MarketBeat.com's FREE daily email newsletter.