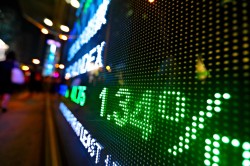 Weidai's (NYSE:WEI) lock-up period will expire on Tuesday, May 14th. Weidai had issued 4,500,000 shares in its public offering on November 15th. The total size of the offering was $45,000,000 based on an initial share price of $10.00. After the expiration of Weidai's lock-up period, restrictions preventing company insiders and major shareholders from selling shares in the company will be lifted.
Separately, ValuEngine raised shares of Weidai from a "sell" rating to a "hold" rating in a report on Monday, February 4th.
Shares of Weidai stock opened at $9.93 on Monday. Weidai has a fifty-two week low of $9.14 and a fifty-two week high of $13.63. The firm has a market capitalization of $695.00 million and a price-to-earnings ratio of 6.25.
Weidai (NYSE:WEI) last issued its quarterly earnings results on Tuesday, March 26th. The company reported $0.23 earnings per share for the quarter, missing analysts' consensus estimates of $0.26 by ($0.03). The business had revenue of $144.50 million for the quarter. On average, equities research analysts predict that Weidai will post 1.66 earnings per share for the current year.
A number of institutional investors have recently modified their holdings of the business. Barings LLC bought a new stake in Weidai in the 1st quarter valued at $347,000. Millennium Management LLC bought a new position in shares of Weidai during the 4th quarter worth about $429,000. Finally, FMR LLC bought a new position in shares of Weidai during the 4th quarter worth about $4,682,000. 0.80% of the stock is owned by hedge funds and other institutional investors.
COPYRIGHT VIOLATION WARNING: This news story was originally reported by Markets Daily and is the sole property of of Markets Daily. If you are reading this news story on another site, it was copied illegally and reposted in violation of United States and international trademark and copyright laws. The correct version of this news story can be viewed at https://www.themarketsdaily.com/2019/05/13/weidai-ltds-wei-lock-up-period-to-end-tomorrow.html.
About Weidai
Weidai Ltd., through its subsidiaries, provides auto-backed financing solutions in the People's Republic of China. Its auto-backed financing platform connects borrowers primarily mall and micro enterprise owners with online investors and institutional funding partners. The company was founded in 2011 and is headquartered in Hangzhou, the People's Republic of China.
Featured Article: Analyzing a company's cash flow statement
Receive News & Ratings for Weidai Daily - Enter your email address below to receive a concise daily summary of the latest news and analysts' ratings for Weidai and related companies with MarketBeat.com's FREE daily email newsletter.