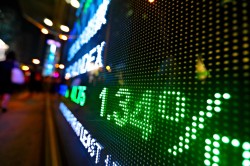 CL King upgraded shares of Designer Brands (NYSE:DBI) from a buy rating to a strong-buy rating in a research note published on Friday morning, Benzinga reports. The firm currently has $23.00 target price on the stock.
DBI opened at $23.09 on Friday. The company has a debt-to-equity ratio of 0.19, a quick ratio of 0.67 and a current ratio of 2.06. Designer Brands has a 1-year low of $20.21 and a 1-year high of $34.63. The firm has a market cap of $1.82 billion, a price-to-earnings ratio of 13.91, a price-to-earnings-growth ratio of 1.36 and a beta of 1.09.
Designer Brands (NYSE:DBI) last released its quarterly earnings data on Tuesday, March 19th. The company reported ($0.07) earnings per share for the quarter, missing the Thomson Reuters' consensus estimate of $0.03 by ($0.10). Designer Brands had a positive return on equity of 14.76% and a negative net margin of 0.64%. The business had revenue of $843.37 million for the quarter, compared to analyst estimates of $850.67 million. On average, equities research analysts anticipate that Designer Brands will post 1.86 earnings per share for the current year.
About Designer Brands
Designer Brands Inc designs, producers, and retails footwear and accessories for women, men, and kids primarily in North America. It operates through three segments: The U.S. Retail, the Canada Retail, and the Brand Portfolio. The company also provides handbags, hosiery, jewelry, and other accessories.
Recommended Story: Why is a lock-up period needed for an IPO?
Receive News & Ratings for Designer Brands Daily - Enter your email address below to receive a concise daily summary of the latest news and analysts' ratings for Designer Brands and related companies with MarketBeat.com's FREE daily email newsletter.