Zumiez (NASDAQ:ZUMZ) announced its earnings results on Thursday. The apparel and footwear maker reported $1.18 earnings per share (EPS) for the quarter, beating the Thomson Reuters' consensus estimate of $1.11 by $0.07, MarketWatch Earnings reports. Zumiez had a net margin of 3.62% and a return on equity of 10.06%. The business had revenue of $304.56 million for the quarter, compared to analyst estimates of $305.55 million. During the same quarter last year, the business earned $0.82 earnings per share. The company's revenue for the quarter was down 1.2% compared to the same quarter last year. Zumiez updated its Q1 2019 guidance to $-0.13–0.07 EPS and its Q1 guidance to $(0.13)-(0.07) EPS.
Shares of NASDAQ:ZUMZ traded down $1.65 during midday trading on Thursday, hitting $23.68. The company's stock had a trading volume of 1,093,963 shares, compared to its average volume of 450,042. The company has a market cap of $627.55 million, a P/E ratio of 21.53, a P/E/G ratio of 1.07 and a beta of 1.24. Zumiez has a 12-month low of $17.57 and a 12-month high of $32.70.
Several analysts have recently issued reports on the stock. Zacks Investment Research lowered shares of Zumiez from a "buy" rating to a "hold" rating in a research report on Saturday, January 26th. DA Davidson reissued a "neutral" rating and issued a $20.00 price target on shares of Zumiez in a research note on Friday, December 7th. ValuEngine downgraded shares of Zumiez from a "hold" rating to a "sell" rating in a research note on Tuesday, November 20th. BidaskClub downgraded shares of Zumiez from a "sell" rating to a "strong sell" rating in a research note on Friday, November 30th. Finally, Pivotal Research downgraded shares of Zumiez from a "buy" rating to a "hold" rating and decreased their price target for the stock from $28.00 to $26.00 in a research note on Monday. Seven research analysts have rated the stock with a hold rating and two have assigned a buy rating to the stock. Zumiez currently has an average rating of "Hold" and a consensus price target of $25.14.
COPYRIGHT VIOLATION NOTICE: This report was originally reported by Markets Daily and is the property of of Markets Daily. If you are viewing this report on another publication, it was illegally stolen and republished in violation of international copyright & trademark law. The correct version of this report can be viewed at https://www.themarketsdaily.com/2019/03/15/zumiez-zumz-releases-quarterly-earnings-results-beats-expectations-by-0-07-eps.html.
About Zumiez
Zumiez Inc, together with its subsidiaries, operates as a specialty retailer of apparel, footwear, accessories, and hardgoods for young men and women. Its hardgoods include skateboards, snowboards, bindings, components, and other equipment. As of September 1, 2018, the company operated 703 stores, including 610 stores in the United States, 50 stores in Canada, 36 stores in Europe, and 7 stores in Australia under the names of Zumiez, Blue Tomato, and Fast Times.
Featured Story: Bull Market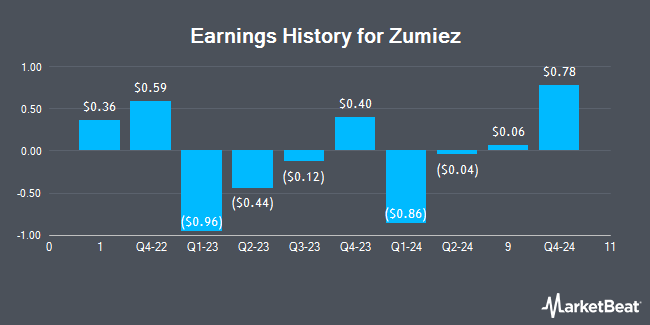 Receive News & Ratings for Zumiez Daily - Enter your email address below to receive a concise daily summary of the latest news and analysts' ratings for Zumiez and related companies with MarketBeat.com's FREE daily email newsletter.