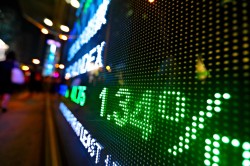 FDx Advisors Inc. purchased a new position in INVESCO HIGH IN/COM (NYSE:IHIT) in the fourth quarter, HoldingsChannel.com reports. The fund purchased 189,694 shares of the company's stock, valued at approximately $1,884,000.
Separately, Winslow Evans & Crocker Inc. purchased a new stake in INVESCO HIGH IN/COM in the fourth quarter worth $216,000.
Shares of IHIT stock opened at $10.28 on Friday. INVESCO HIGH IN/COM has a 52 week low of $9.60 and a 52 week high of $10.80.
The firm also recently declared a monthly dividend, which will be paid on Thursday, February 28th. Investors of record on Wednesday, February 13th will be paid a $0.05 dividend. This represents a $0.60 dividend on an annualized basis and a yield of 5.84%. The ex-dividend date of this dividend is Tuesday, February 12th.
In related news, insider Mario Clemente sold 10,800 shares of the firm's stock in a transaction on Tuesday, January 15th. The stock was sold at an average price of $10.09, for a total value of $108,972.00. The sale was disclosed in a document filed with the Securities & Exchange Commission, which is available at this hyperlink.
ILLEGAL ACTIVITY NOTICE: This story was posted by Markets Daily and is owned by of Markets Daily. If you are viewing this story on another publication, it was illegally stolen and republished in violation of U.S. & international trademark & copyright law. The correct version of this story can be viewed at https://www.themarketsdaily.com/2019/02/22/189694-shares-in-invesco-high-in-com-ihit-acquired-by-fdx-advisors-inc.html.
INVESCO HIGH IN/COM Company Profile
There is no company description available for Invesco High Income 2023 Target Term Fund.
See Also: How Do Investors Open a Backdoor Roth IRA?
Want to see what other hedge funds are holding IHIT? Visit HoldingsChannel.com to get the latest 13F filings and insider trades for INVESCO HIGH IN/COM (NYSE:IHIT).
Receive News & Ratings for INVESCO HIGH IN/COM Daily - Enter your email address below to receive a concise daily summary of the latest news and analysts' ratings for INVESCO HIGH IN/COM and related companies with MarketBeat.com's FREE daily email newsletter.