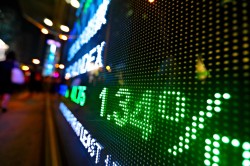 Shares of Qutoutiao Inc – (NASDAQ:QTT) shot up 6.1% during trading on Monday . The stock traded as high as $11.85 and last traded at $11.79. 1,527,038 shares were traded during trading, a decline of 28% from the average session volume of 2,134,544 shares. The stock had previously closed at $11.11.
QTT has been the subject of a number of analyst reports. Zacks Investment Research downgraded shares of Qutoutiao from a "hold" rating to a "sell" rating in a research report on Thursday, December 13th. Deutsche Bank upgraded shares of Qutoutiao from a "hold" rating to a "buy" rating and cut their price objective for the stock from $8.30 to $8.00 in a research report on Wednesday, November 14th. Finally, Citigroup began coverage on shares of Qutoutiao in a report on Thursday, October 18th. They set a "neutral" rating and a $8.40 price target for the company.
Qutoutiao (NASDAQ:QTT) last issued its earnings results on Monday, November 12th. The company reported ($0.33) earnings per share (EPS) for the quarter, missing analysts' consensus estimates of ($0.12) by ($0.21). The firm had revenue of $142.28 million during the quarter, compared to analyst estimates of $131.40 million. On average, analysts anticipate that Qutoutiao Inc – will post -1.98 EPS for the current fiscal year.
A number of institutional investors have recently modified their holdings of QTT. Citadel Advisors LLC purchased a new position in shares of Qutoutiao in the third quarter valued at $466,000. BlackRock Inc. purchased a new position in shares of Qutoutiao in the fourth quarter valued at $399,000. Finally, National Asset Management Inc. purchased a new position in Qutoutiao during the 4th quarter valued at about $66,000. 0.13% of the stock is owned by institutional investors.
TRADEMARK VIOLATION WARNING: This report was reported by Markets Daily and is the property of of Markets Daily. If you are viewing this report on another domain, it was illegally stolen and reposted in violation of United States & international copyright & trademark legislation. The correct version of this report can be viewed at https://www.themarketsdaily.com/2019/02/12/qutoutiao-qtt-shares-up-6-1.html.
About Qutoutiao (NASDAQ:QTT)
Qutoutiao Inc develops an application for news in China. Qutoutiao Inc was formerly known as Qtech Ltd. and changed its name to Qutoutiao Inc in July 2018. The company was founded in 2016 and is based in Shanghai, China.
Recommended Story: Stock Split
Receive News & Ratings for Qutoutiao Daily - Enter your email address below to receive a concise daily summary of the latest news and analysts' ratings for Qutoutiao and related companies with MarketBeat.com's FREE daily email newsletter.