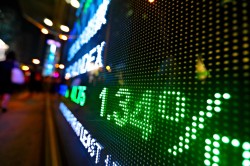 Capri (NYSE:CPRI) was downgraded by Zacks Investment Research from a "hold" rating to a "strong sell" rating in a research note issued to investors on Thursday.
According to Zacks, "Shares of Capri Holdings have declined and underperformed the industry in the past six months. The bearish run of the stock may be attributed to the top-line miss for the second time, when the company posted third-quarter fiscal 2019 results. Lower revenue contribution from Michael Kors might have hurt the top line to an extent. The company has been witnessing soft MK Wholesale and Licensing revenues for a while. We note total revenue remained almost flat year over year but the bottom line came marginally below on account of higher operating expenses. The company also provided a subdued fourth-quarter view. Nonetheless, the company maintained its positive earnings surprise streak in the quarter. It has also been constantly deploying resources to expand product offerings and upgrade distribution infrastructure. This along with the "Runway 2020" plan, cost containment efforts, focus on e-commerce platform and accretive buyouts bode well."
A number of other research analysts also recently issued reports on CPRI. Wolfe Research restated an "outperform" rating and set a $53.00 target price (down from $63.00) on shares of Capri in a research report on Friday, February 1st. Needham & Company LLC cut their price objective on shares of Capri from $67.00 to $61.00 and set a "buy" rating for the company in a report on Friday, February 1st. ValuEngine cut shares of Capri from a "hold" rating to a "sell" rating in a report on Saturday, February 2nd. Canaccord Genuity set a $76.00 price objective on shares of Capri and gave the company a "buy" rating in a report on Saturday, February 2nd. Finally, Guggenheim reaffirmed a "hold" rating on shares of Capri in a report on Wednesday. Two investment analysts have rated the stock with a sell rating, two have given a hold rating and three have assigned a buy rating to the company. Capri has a consensus rating of "Hold" and an average target price of $58.75.
NYSE CPRI
traded down $1.57 on Thursday, reaching $46.90. 246,941 shares of the company's stock traded hands, compared to its average volume of 2,195,878. The company has a market capitalization of $6.54 billion, a PE ratio of 10.38, a P/E/G ratio of 1.41 and a beta of 0.60. Capri has a fifty-two week low of $35.68 and a fifty-two week high of $75.96. The company has a debt-to-equity ratio of 0.23, a current ratio of 1.48 and a quick ratio of 0.71.
Capri (NYSE:CPRI) last posted its earnings results on Wednesday, February 6th. The company reported $1.76 earnings per share (EPS) for the quarter, beating analysts' consensus estimates of $1.57 by $0.19. The company had revenue of $1.44 billion during the quarter, compared to the consensus estimate of $1.46 billion. Capri had a net margin of 11.57% and a return on equity of 36.66%. The firm's quarterly revenue was down .1% on a year-over-year basis. During the same period in the previous year, the firm posted $1.77 earnings per share. Research analysts expect that Capri will post 4.99 earnings per share for the current year.
A number of institutional investors and hedge funds have recently made changes to their positions in the stock. Financial Gravity Companies Inc. purchased a new stake in shares of Capri in the 4th quarter valued at approximately $144,000. QUANTRES ASSET MANAGEMENT Ltd purchased a new position in shares of Capri in the 4th quarter valued at $425,000. DNB Asset Management AS acquired a new stake in Capri during the 4th quarter worth $618,000. Finally, Nisa Investment Advisors LLC acquired a new stake in shares of Capri in the 4th quarter worth $3,845,000. 86.70% of the stock is currently owned by hedge funds and other institutional investors.
About Capri
Capri Holdings Ltd. engages in the design and distribution of sportswear, accessories, footwear and apparel of branded women's apparel and accessories and men's apparel. The firm operates its business through three segments: Retail, Wholesale and Licensing. The Retail segment operates collection stores, lifestyle stores, including concessions and outlet stores located primarily in the United States, Canada, Europe and Japan.
Further Reading: Why is the price-sales ratio important?

Get a free copy of the Zacks research report on Capri (CPRI)
For more information about research offerings from Zacks Investment Research, visit Zacks.com
Receive News & Ratings for Capri Daily - Enter your email address below to receive a concise daily summary of the latest news and analysts' ratings for Capri and related companies with MarketBeat.com's FREE daily email newsletter.