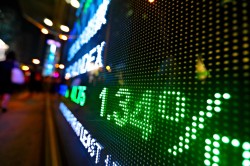 Zacks Investment Research downgraded shares of Petroquest Energy (OTCMKTS:PQUEQ) from a buy rating to a hold rating in a research report sent to investors on Wednesday morning.
According to Zacks, "PetroQuest Energy, Inc. is an oil and gas exploration and production company primarily focused on growing its reserves and shareholder value through a combination of drilling development locations and high potential exploration prospects along and in the Gulf of Mexico. "
OTCMKTS PQUEQ opened at $0.01 on Wednesday. Petroquest Energy has a 1 year low of $0.00 and a 1 year high of $1.96. The firm has a market capitalization of $100,000.00, a PE ratio of -0.01 and a beta of 2.26.
Petroquest Energy (OTCMKTS:PQUEQ) last posted its earnings results on Monday, November 5th. The company reported ($0.19) earnings per share (EPS) for the quarter, hitting the Thomson Reuters' consensus estimate of ($0.19). The firm had revenue of $20.83 million during the quarter, compared to the consensus estimate of $20.60 million. On average, research analysts expect that Petroquest Energy will post -0.63 earnings per share for the current year.
Petroquest Energy Company Profile
PetroQuest Energy, Inc operates as an independent oil and gas company in Texas and Louisiana. The company acquires, explores for, develops, and operates oil and gas properties. As of December 31, 2017, it had estimated proved reserves of 1.8 million barrels of oil; 19.4 billion cubic feet equivalent of natural gas liquids; and 125.4 billion cubic feet of natural gas.
Further Reading: Institutional Investors
Get a free copy of the Zacks research report on Petroquest Energy (PQUEQ)
For more information about research offerings from Zacks Investment Research, visit Zacks.com
Receive News & Ratings for Petroquest Energy Daily - Enter your email address below to receive a concise daily summary of the latest news and analysts' ratings for Petroquest Energy and related companies with MarketBeat.com's FREE daily email newsletter.