Synopsys (NASDAQ:SNPS) updated its FY 2019 earnings guidance on Wednesday. The company provided EPS guidance of $4.20-4.27 for the period, compared to the Thomson Reuters consensus EPS estimate of $3.90. The company issued revenue guidance of $3.29-3.34 billion, compared to the consensus revenue estimate of $3.12 billion.Synopsys also updated its Q1 2019 guidance to $0.95-1.00 EPS.
Several research firms have weighed in on SNPS. BidaskClub upgraded shares of Synopsys from a buy rating to a strong-buy rating in a research report on Tuesday, August 28th. DA Davidson lifted their price objective on shares of Synopsys to $110.00 and gave the stock a buy rating in a research report on Thursday, August 23rd. JPMorgan Chase & Co. boosted their price target on shares of Synopsys to $98.00 and gave the company an underweight rating in a report on Thursday, August 23rd. KeyCorp boosted their price target on shares of Synopsys from $112.00 to $115.00 and gave the company an overweight rating in a report on Thursday, August 23rd. Finally, Needham & Company LLC restated a buy rating and set a $105.00 price target (up from $100.00) on shares of Synopsys in a report on Thursday, August 23rd. One investment analyst has rated the stock with a sell rating, two have given a hold rating and seven have assigned a buy rating to the stock. The stock has a consensus rating of Buy and an average target price of $106.86.
Shares of Synopsys stock traded down $3.45 on Wednesday, hitting $89.45. 1,281,330 shares of the company traded hands, compared to its average volume of 1,191,776. The company has a quick ratio of 0.70, a current ratio of 0.70 and a debt-to-equity ratio of 0.04. Synopsys has a 12-month low of $80.13 and a 12-month high of $103.40. The stock has a market cap of $13.66 billion, a P/E ratio of 101.65, a P/E/G ratio of 3.65 and a beta of 1.29.
ILLEGAL ACTIVITY WARNING: "Synopsys (SNPS) Issues FY 2019 Earnings Guidance" was originally published by Markets Daily and is owned by of Markets Daily. If you are viewing this story on another domain, it was stolen and reposted in violation of US & international copyright and trademark law. The legal version of this story can be read at https://www.themarketsdaily.com/2018/12/05/synopsys-snps-issues-fy-2019-earnings-guidance.html.
About Synopsys
Synopsys, Inc provides electronic design automation (EDA) software products used to design and test integrated circuits (ICs). It offers Galaxy Design platform that offers IC design solutions; Verification Continuum Platform, which provides virtual prototyping, static and formal verification, simulation, emulation, field-programmable gate array (FPGA)-based prototyping, and debug solutions; and FPGA design products that are programmed to perform specific functions.
Featured Article: Cost of Capital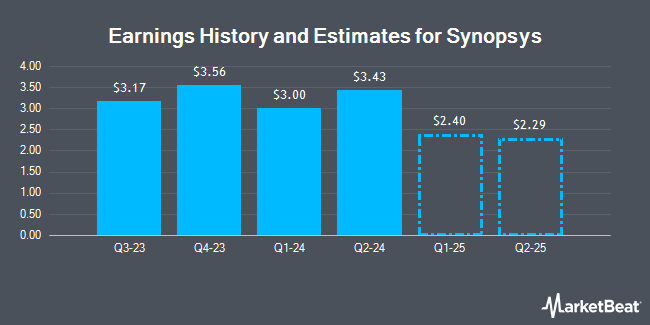 Receive News & Ratings for Synopsys Daily - Enter your email address below to receive a concise daily summary of the latest news and analysts' ratings for Synopsys and related companies with MarketBeat.com's FREE daily email newsletter.