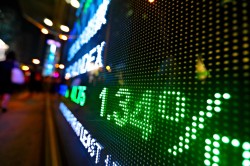 MATRRIX Energy Technologies (CVE:MXX) Director Lyle Clarence Whitmarsh purchased 88,000 shares of the firm's stock in a transaction on Friday, November 16th. The shares were acquired at an average price of C$0.21 per share, for a total transaction of C$18,480.00.
MXX remained flat at $C$0.23 during trading on Tuesday. MATRRIX Energy Technologies has a twelve month low of C$0.18 and a twelve month high of C$0.52. The company has a debt-to-equity ratio of 6.05, a current ratio of 4.26 and a quick ratio of 4.08.
WARNING: "Lyle Clarence Whitmarsh Acquires 88,000 Shares of MATRRIX Energy Technologies (MXX) Stock" was reported by Markets Daily and is the property of of Markets Daily. If you are accessing this piece on another website, it was illegally copied and republished in violation of U.S. and international trademark & copyright law. The legal version of this piece can be read at https://www.themarketsdaily.com/2018/11/20/lyle-clarence-whitmarsh-acquires-88000-shares-of-matrrix-energy-technologies-mxx-stock.html.
MATRRIX Energy Technologies Company Profile
MATRRIX Energy Technologies Inc provides horizontal and directional drilling equipment and services for the oil and gas industry in Canada and the United States. It operates through two segments, Directional Drilling and Land Based Contract Drilling. The company als offers oilfield services in the Western Canadian Sedimentary Basin.
Recommended Story: Cost of Capital
Receive News & Ratings for MATRRIX Energy Technologies Daily - Enter your email address below to receive a concise daily summary of the latest news and analysts' ratings for MATRRIX Energy Technologies and related companies with MarketBeat.com's FREE daily email newsletter.