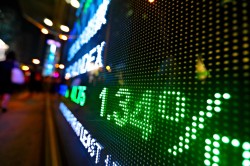 ValuEngine downgraded shares of EuroDry (NASDAQ:EDRY) from a hold rating to a sell rating in a research note published on Friday morning.
EDRY has been the topic of several other reports. Noble Financial reiterated a buy rating on shares of EuroDry in a report on Thursday. Maxim Group reiterated a buy rating and set a $13.00 price objective on shares of EuroDry in a report on Wednesday, October 17th.
Shares of EDRY stock traded down $0.15 during trading hours on Friday, hitting $11.00. 249,830 shares of the company were exchanged, compared to its average volume of 54,422. EuroDry has a 1 year low of $4.89 and a 1 year high of $14.50. The company has a current ratio of 0.50, a quick ratio of 0.45 and a debt-to-equity ratio of 0.89.
EuroDry (NASDAQ:EDRY) last announced its quarterly earnings data on Thursday, November 15th. The company reported $0.62 earnings per share for the quarter, topping the Thomson Reuters' consensus estimate of $0.10 by $0.52. The company had revenue of $6.79 million for the quarter, compared to analysts' expectations of $6.21 million. On average, equities research analysts forecast that EuroDry will post -0.32 EPS for the current year.
EuroDry Company Profile
EuroDry Ltd. operates independently of Euroseas Ltd. as of May 31, 2018.
See Also: Why do companies engage in swaps?
To view ValuEngine's full report, visit ValuEngine's official website.
Receive News & Ratings for EuroDry Daily - Enter your email address below to receive a concise daily summary of the latest news and analysts' ratings for EuroDry and related companies with MarketBeat.com's FREE daily email newsletter.