TravelCenters of America (NASDAQ:TA) will issue its quarterly earnings data before the market opens on Monday, November 5th. Analysts expect the company to announce earnings of $0.27 per share for the quarter. Parties that wish to register for the company's conference call can do so using this link.
TravelCenters of America (NASDAQ:TA) last issued its earnings results on Monday, August 6th. The specialty retailer reported ($0.05) EPS for the quarter, missing analysts' consensus estimates of $0.21 by ($0.26). The firm had revenue of $1.84 billion during the quarter, compared to analyst estimates of $1.86 billion. TravelCenters of America had a negative net margin of 0.04% and a negative return on equity of 6.19%. The business's revenue for the quarter was up 22.7% compared to the same quarter last year. During the same quarter in the previous year, the company posted ($0.08) earnings per share. On average, analysts expect TravelCenters of America to post $-1 EPS for the current fiscal year and $0 EPS for the next fiscal year.
Shares of NASDAQ TA opened at $4.78 on Friday. TravelCenters of America has a one year low of $3.05 and a one year high of $6.10. The company has a debt-to-equity ratio of 1.29, a current ratio of 1.22 and a quick ratio of 0.67.
A number of analysts have weighed in on the company.
Zacks Investment Research
upgraded TravelCenters of America from a "strong sell" rating to a "buy" rating and set a $5.50 price target on the stock in a research report on Wednesday, October 10th. B. Riley upped their price target on TravelCenters of America to $10.00 and gave the company a "buy" rating in a research report on Wednesday, September 5th. Finally, Craig Hallum upped their price target on TravelCenters of America from $6.50 to $10.00 in a research report on Wednesday, September 5th. One research analyst has rated the stock with a hold rating and three have assigned a buy rating to the company's stock. The stock presently has a consensus rating of "Buy" and an average price target of $7.38.
In related news, Director Adam D. Portnoy purchased 1,492,691 shares of the stock in a transaction on Wednesday, October 10th. The shares were purchased at an average cost of $5.62 per share, for a total transaction of $8,388,923.42. Following the completion of the transaction, the director now directly owns 143,264 shares of the company's stock, valued at approximately $805,143.68. The acquisition was disclosed in a legal filing with the SEC, which can be accessed through this hyperlink. Corporate insiders own 3.80% of the company's stock.
TravelCenters of America Company Profile
TravelCenters of America LLC operates travel centers and convenience stores in the United States and Canada. It operates in two segments, Travel Centers and Convenience Stores. Its travel centers offer a range of products and services, including diesel fuel and gasoline, as well as nonfuel products and services, such as truck repair and maintenance services, full service restaurants, quick service restaurants (QSR), and various customer amenities.
Featured Article: How can you know how many shares are floating?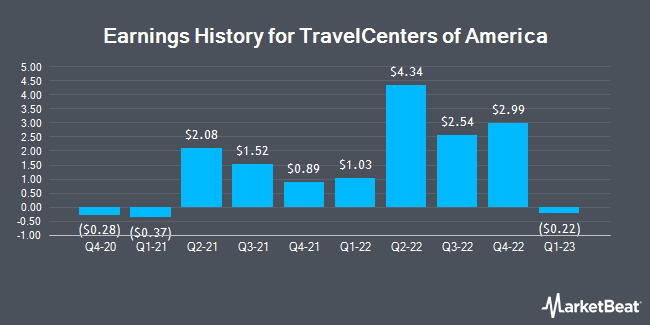 Receive News & Ratings for TravelCenters of America Daily - Enter your email address below to receive a concise daily summary of the latest news and analysts' ratings for TravelCenters of America and related companies with MarketBeat.com's FREE daily email newsletter.