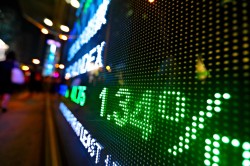 MARINE HARVEST/S (OTCMKTS:MHGVY) announced a quarterly dividend on Wednesday, October 31st, Zacks reports. Stockholders of record on Tuesday, November 13th will be paid a dividend of 0.258 per share on Monday, November 26th. This represents a $1.03 dividend on an annualized basis and a dividend yield of 4.25%. The ex-dividend date is Friday, November 9th.
Shares of MARINE HARVEST/S stock opened at $24.27 on Friday. The stock has a market capitalization of $5.49 billion, a PE ratio of 20.74 and a beta of 0.05. MARINE HARVEST/S has a one year low of $16.04 and a one year high of $24.68. The company has a debt-to-equity ratio of 0.42, a quick ratio of 0.91 and a current ratio of 3.62.
MARINE HARVEST/S (OTCMKTS:MHGVY) last released its earnings results on Wednesday, August 22nd. The company reported $0.31 earnings per share (EPS) for the quarter. The business had revenue of $1.06 billion for the quarter. MARINE HARVEST/S had a return on equity of 21.99% and a net margin of 14.72%.
About MARINE HARVEST/S
Marine Harvest ASA, a seafood company, produces and supplies farmed salmon products worldwide. The company operates in three segments: Feed, Farming, and Sales and Marketing. It is involved in the salmon feed production, salmon farming and primary processing, and seafood secondary processing activities.
Further Reading: Why is the conference call important?
Receive News & Ratings for MARINE HARVEST/S Daily - Enter your email address below to receive a concise daily summary of the latest news and analysts' ratings for MARINE HARVEST/S and related companies with MarketBeat.com's FREE daily email newsletter.