AbbVie (NYSE:ABBV) updated its FY18 earnings guidance on Friday. The company provided earnings per share (EPS) guidance of $7.90-7.92 for the period, compared to the Thomson Reuters consensus estimate of $7.88.
A number of brokerages have weighed in on ABBV. Barclays reiterated a hold rating and set a $90.00 price target on shares of AbbVie in a research report on Sunday. Credit Suisse Group set a $85.00 price target on shares of AbbVie and gave the company a hold rating in a research report on Sunday, October 14th. BMO Capital Markets reiterated a sell rating and set a $78.00 price target on shares of AbbVie in a research report on Friday, July 27th. Berenberg Bank began coverage on shares of AbbVie in a research report on Thursday, July 12th. They set a hold rating and a $105.00 price target for the company. Finally, Cowen set a $110.00 price target on shares of AbbVie and gave the company a buy rating in a research report on Friday, July 27th. Five equities research analysts have rated the stock with a sell rating, six have given a hold rating, eight have assigned a buy rating and two have issued a strong buy rating to the stock. The company presently has a consensus rating of Hold and a consensus price target of $104.98.
Shares of ABBV stock opened at $79.56 on Friday. The company has a quick ratio of 0.71, a current ratio of 0.80 and a debt-to-equity ratio of 8.70. The company has a market capitalization of $120.48 billion, a P/E ratio of 14.21, a price-to-earnings-growth ratio of 0.79 and a beta of 1.62. AbbVie has a fifty-two week low of $77.50 and a fifty-two week high of $125.86.
AbbVie (NYSE:ABBV) last announced its quarterly earnings data on Friday, November 2nd. The company reported $2.14 earnings per share for the quarter, beating analysts' consensus estimates of $2.01 by $0.13. The firm had revenue of $8.24 billion during the quarter, compared to analysts' expectations of $8.23 billion. AbbVie had a net margin of 20.84% and a return on equity of 362.05%. The business's quarterly revenue was up 17.7% compared to the same quarter last year. During the same quarter in the previous year, the business posted $1.41 earnings per share. As a group, research analysts predict that AbbVie will post 7.91 EPS for the current year.
The firm also recently disclosed a quarterly dividend, which will be paid on Thursday, November 15th. Investors of record on Monday, October 15th will be issued a $0.96 dividend. This represents a $3.84 dividend on an annualized basis and a dividend yield of 4.83%. The ex-dividend date is Friday, October 12th. AbbVie's dividend payout ratio (DPR) is currently 68.57%.
In other AbbVie news, EVP Michael Severino sold 50,000 shares of the business's stock in a transaction that occurred on Friday, August 17th. The shares were sold at an average price of $97.52, for a total transaction of $4,876,000.00. Following the completion of the transaction, the executive vice president now owns 111,481 shares in the company, valued at approximately $10,871,627.12. The transaction was disclosed in a document filed with the Securities & Exchange Commission, which is available at this hyperlink. Insiders own 0.07% of the company's stock.
About AbbVie
AbbVie Inc discovers, develops, manufactures, and sells pharmaceutical products worldwide. The company offers HUMIRA, a biologic therapy administered as a subcutaneous injection for autoimmune diseases; IMBRUVICA, an oral therapy for patients with chronic lymphocytic leukemia; and VIEKIRA PAK, an interferon-free therapy, with or without ribavirin, to treat adults with genotype 1 chronic hepatitis C.
See Also: Exchange-Traded Funds (ETFs)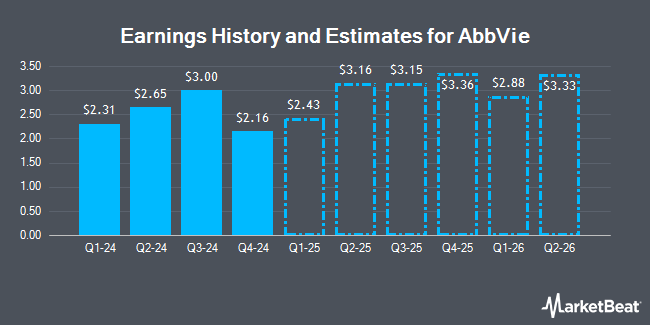 Receive News & Ratings for AbbVie Daily - Enter your email address below to receive a concise daily summary of the latest news and analysts' ratings for AbbVie and related companies with MarketBeat.com's FREE daily email newsletter.