SEGRO (LON:SGRO) had its price target lifted by JPMorgan Chase & Co. from GBX 640 ($8.36) to GBX 660 ($8.62) in a research note issued to investors on Tuesday. The brokerage currently has an underweight rating on the real estate investment trust's stock.
Other equities analysts have also issued reports about the company. Liberum Capital reaffirmed a buy rating on shares of SEGRO in a research report on Friday, October 12th. Numis Securities lowered SEGRO to a hold rating in a research report on Thursday, July 26th. Peel Hunt reaffirmed a hold rating on shares of SEGRO in a research report on Thursday, July 26th. Credit Suisse Group upped their target price on SEGRO from GBX 300 ($3.92) to GBX 745 ($9.73) and gave the company an outperform rating in a research report on Thursday, August 23rd. Finally, Barclays upped their price target on SEGRO from GBX 690 ($9.02) to GBX 700 ($9.15) and gave the company an overweight rating in a research report on Monday, August 6th. One analyst has rated the stock with a sell rating, four have assigned a hold rating and seven have given a buy rating to the stock. The company presently has an average rating of Buy and an average price target of GBX 661.92 ($8.65).
Shares of SGRO opened at GBX 633.80 ($8.28) on Tuesday. SEGRO has a 52-week low of GBX 447.40 ($5.85) and a 52-week high of GBX 612.80 ($8.01).
SEGRO (LON:SGRO) last announced its earnings results on Thursday, July 26th. The real estate investment trust reported GBX 10.80 ($0.14) earnings per share (EPS) for the quarter, missing the Zacks' consensus estimate of GBX 10.90 ($0.14) by GBX (0.10) ($0.00). SEGRO had a net margin of 400.00% and a return on equity of 21.26%.
The company also recently declared a dividend, which was paid on Friday, September 28th. Investors of record on Thursday, August 16th were given a dividend of GBX 5.55 ($0.07) per share. This represents a dividend yield of 0.83%. The ex-dividend date was Thursday, August 16th.
About SEGRO
SEGRO is a UK Real Estate Investment Trust (REIT), and a leading owner, manager and developer of modern warehouses and light industrial property. It owns or manages 7 million square metres of space (74 million square feet) valued at over £10 billion serving customers from a wide range of industry sectors.
Further Reading: Dividend Aristocrat Index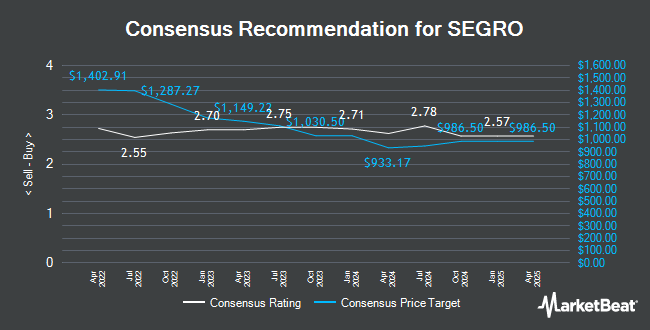 Receive News & Ratings for SEGRO Daily - Enter your email address below to receive a concise daily summary of the latest news and analysts' ratings for SEGRO and related companies with MarketBeat.com's FREE daily email newsletter.