Genuine Parts (NYSE:GPC) issued an update on its FY18 earnings guidance on Thursday morning. The company provided earnings per share guidance of $5.60-5.70 for the period, compared to the Thomson Reuters consensus earnings per share estimate of $5.64. The company issued revenue guidance of +14-15% to ~$1.86-1.88 billion, compared to the consensus revenue estimate of $18.63 billion.
NYSE GPC opened at $101.34 on Friday. Genuine Parts has a 52 week low of $84.71 and a 52 week high of $107.75. The stock has a market cap of $14.80 billion, a PE ratio of 18.47, a price-to-earnings-growth ratio of 2.68 and a beta of 1.17. The company has a quick ratio of 0.71, a current ratio of 1.33 and a debt-to-equity ratio of 0.67.
Genuine Parts (NYSE:GPC) last released its quarterly earnings results on Thursday, October 18th. The specialty retailer reported $1.48 EPS for the quarter, meeting the Thomson Reuters' consensus estimate of $1.48. Genuine Parts had a net margin of 3.99% and a return on equity of 22.54%. The firm had revenue of $4.72 billion during the quarter, compared to analyst estimates of $4.71 billion. During the same quarter in the prior year, the firm earned $1.16 EPS. The business's revenue for the quarter was up 15.3% compared to the same quarter last year. Sell-side analysts forecast that Genuine Parts will post 5.66 EPS for the current fiscal year.
The firm also recently declared a quarterly dividend, which was paid on Monday, October 1st. Stockholders of record on Friday, September 7th were given a dividend of $0.72 per share. This represents a $2.88 annualized dividend and a dividend yield of 2.84%. The ex-dividend date was Thursday, September 6th. Genuine Parts's payout ratio is currently 62.07%.
Several equities research analysts recently issued reports on GPC shares. Royal Bank of Canada increased their target price on shares of Genuine Parts to $99.00 and gave the stock a sector perform rating in a report on Thursday, July 12th. Wedbush increased their target price on shares of Genuine Parts from $93.00 to $100.00 and gave the stock a neutral rating in a report on Friday, July 20th. Zacks Investment Research lowered shares of Genuine Parts from a buy rating to a hold rating in a report on Wednesday, July 25th. Finally, ValuEngine raised shares of Genuine Parts from a hold rating to a buy rating in a report on Friday. Two investment analysts have rated the stock with a sell rating, five have assigned a hold rating and two have issued a buy rating to the company's stock. The company presently has a consensus rating of Hold and a consensus price target of $102.80.
In related news, insider James R. Neill sold 512 shares of the stock in a transaction that occurred on Thursday, July 26th. The shares were sold at an average price of $97.94, for a total value of $50,145.28. Following the completion of the sale, the insider now directly owns 5,661 shares of the company's stock, valued at approximately $554,438.34. The transaction was disclosed in a legal filing with the Securities & Exchange Commission, which is available at this hyperlink. Corporate insiders own 3.10% of the company's stock.
About Genuine Parts
Genuine Parts Company distributes automotive replacement and industrial parts, electrical and electronic materials, and business products in the United States, Canada, Mexico, Australasia, France, the United Kingdom, Germany, and Poland. The company distributes automotive replacement parts for imported vehicles, trucks, SUVs, buses, motorcycles, recreational vehicles, farm vehicles, small engines, farm equipment, and heavy duty equipment through 57 NAPA automotive parts distribution centers and 1,100 NAPA AUTO PARTS stores.
Read More: What is the Dividend Aristocrat Index?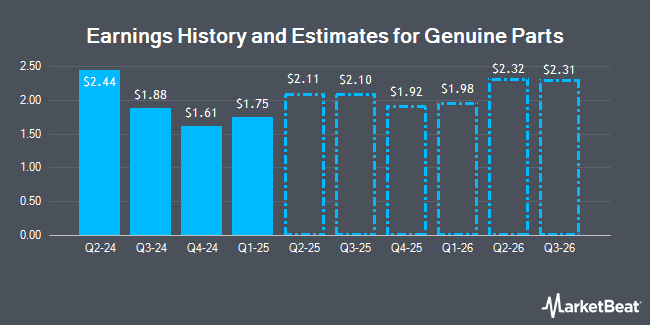 Receive News & Ratings for Genuine Parts Daily - Enter your email address below to receive a concise daily summary of the latest news and analysts' ratings for Genuine Parts and related companies with MarketBeat.com's FREE daily email newsletter.