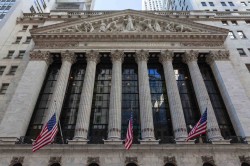 Centerra Gold (OTCMKTS:CAGDF) was upgraded by analysts at Canaccord Genuity from a "hold" rating to a "buy" rating in a research report issued on Thursday, The Fly reports.
Separately, Royal Bank of Canada downgraded Centerra Gold from a "sector perform" rating to an "underperform" rating in a research report on Tuesday, July 17th.
Shares of OTCMKTS CAGDF opened at $4.07 on Thursday. Centerra Gold has a 12-month low of $3.51 and a 12-month high of $7.34.
About Centerra Gold
Centerra Gold Inc, a gold mining and exploration company, engages in the acquisition, exploration, development, and operation of gold and copper properties in North America, Asia, and internationally. Its principal projects include Kumtor gold mine located in the Kyrgyz Republic; and the Mount Milligan gold-copper mine located in British Columbia, Canada.
Further Reading: How to interpret a stock's beta number


Receive News & Ratings for Centerra Gold Daily - Enter your email address below to receive a concise daily summary of the latest news and analysts' ratings for Centerra Gold and related companies with MarketBeat.com's FREE daily email newsletter.