NovaGold Resources Inc. (TSE:NG) (AMEX:NG) insider David Lee Deisley sold 30,400 shares of the firm's stock in a transaction dated Thursday, October 18th. The shares were sold at an average price of C$5.60, for a total value of C$170,240.00.
NovaGold Resources stock traded up C$0.03 during trading hours on Friday, reaching C$5.55. The company had a trading volume of 185,726 shares, compared to its average volume of 174,614. NovaGold Resources Inc. has a 12-month low of C$4.33 and a 12-month high of C$6.47.
Separately, JPMorgan Chase & Co. decreased their price target on NovaGold Resources from C$9.10 to C$8.00 in a research note on Friday, October 5th.
About NovaGold Resources
Novagold Resources Inc is a mineral exploration company. The Company is engaged in the exploration and development of mineral properties. The Company's segments include the Donlin Gold project in Alaska, the United States and the Galore Creek project in British Columbia, Canada. The Company operates in the gold mining industry, primarily focused on advancing permitting of the Donlin Gold project in Alaska.
See Also: What is a Fiduciary?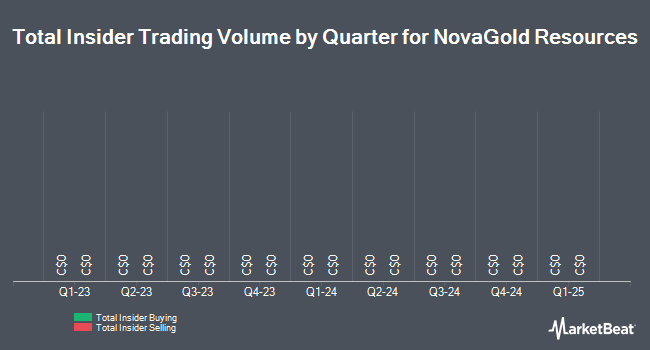 Receive News & Ratings for NovaGold Resources Daily - Enter your email address below to receive a concise daily summary of the latest news and analysts' ratings for NovaGold Resources and related companies with MarketBeat.com's FREE daily email newsletter.