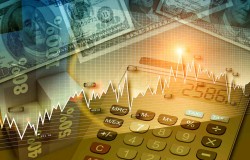 MMA Capital Management LLC (NASDAQ:MMAC) CFO David C. Bjarnason acquired 577 shares of the business's stock in a transaction that occurred on Thursday, October 18th. The shares were purchased at an average cost of $26.31 per share, with a total value of $15,180.87. Following the transaction, the chief financial officer now directly owns 9,250 shares of the company's stock, valued at $243,367.50. The acquisition was disclosed in a document filed with the SEC, which is available through the SEC website.
MMAC traded down $0.01 on Friday, hitting $26.00. 3,984 shares of the stock were exchanged, compared to its average volume of 7,218. MMA Capital Management LLC has a 12 month low of $23.70 and a 12 month high of $30.58. The company has a quick ratio of 12.64, a current ratio of 32.13 and a debt-to-equity ratio of 1.09. The stock has a market capitalization of $150.38 million, a price-to-earnings ratio of 10.89 and a beta of 0.37.
MMA Capital Management (NASDAQ:MMAC) last posted its quarterly earnings data on Thursday, August 9th. The financial services provider reported $0.32 earnings per share for the quarter. MMA Capital Management had a net margin of 127.87% and a return on equity of 7.26%. The business had revenue of $3.50 million during the quarter.
A hedge fund recently bought a new stake in MMA Capital Management stock. Sei Investments Co. acquired a new position in shares of MMA Capital Management LLC (NASDAQ:MMAC) in the 1st quarter, according to the company in its most recent disclosure with the Securities and Exchange Commission (SEC). The institutional investor acquired 5,905 shares of the financial services provider's stock, valued at approximately $161,000. Sei Investments Co. owned 0.10% of MMA Capital Management as of its most recent SEC filing. 10.68% of the stock is owned by institutional investors and hedge funds.
About MMA Capital Management
MMA Capital Management, LLC creates and manages investments in housing and renewable energy sectors in the United States and internationally. Its investments in debt securities comprises multifamily tax-exempt bonds, as well as other real estate related bond investments. The company offers leveraged bonds; low-income housing tax credits; asset management and administrative services to a limited liability company and a commercial bank; and guarantees to the institutional investors related to the receipt of tax credits.
Recommended Story: Stock Split
Receive News & Ratings for MMA Capital Management Daily - Enter your email address below to receive a concise daily summary of the latest news and analysts' ratings for MMA Capital Management and related companies with MarketBeat.com's FREE daily email newsletter.