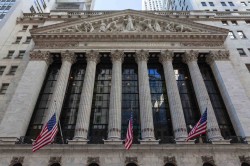 China Oilfield Services (OTCMKTS:CHOLY) was downgraded by Zacks Investment Research from a "strong-buy" rating to a "hold" rating in a note issued to investors on Monday.
According to Zacks, "China Oilfield Services Limited engages in the provision of drilling services, well services, marine support and transportation services and geophysical services in offshore China. The drilling services segment provides oilfield drilling services while the well services segment is engaged in providing logging and downhole services, such as drilling fluids, directional drilling, cementing and well completion. Services offered by marine support and transportation segment include transportation of materials, supplies and personnel to offshore facilities; moving and positioning drilling structures; transportation of crude oil and refined products and the transportation of methanol or other petrochemical products, and the geophysical services segment is engaged in the provision of offshore seismic data collection, marine surveying and data processing services. China Oilfield Services Limited is based in Beijing, the Peoples' Republic of China. "
Separately, ValuEngine upgraded shares of China Oilfield Services from a "sell" rating to a "hold" rating in a report on Friday, May 11th.
CHOLY
traded up $0.23 during trading on Monday, hitting $18.10. 200 shares of the company's stock were exchanged, compared to its average volume of 1,355. The company has a current ratio of 1.74, a quick ratio of 1.63 and a debt-to-equity ratio of 0.74. China Oilfield Services has a fifty-two week low of $16.20 and a fifty-two week high of $26.06. The company has a market cap of $1.61 billion, a price-to-earnings ratio of 905.00 and a beta of 0.95.
China Oilfield Services Company Profile
China Oilfield Services Limited, together with its subsidiaries, provides integrated offshore oilfield services in Mainland China and internationally. The company operates through four segments: Drilling Services, Well Services, Marine Support Services, and Geophysical and Surveying Services. The Drilling Services segment provides drilling, module rigs, land drilling rigs, and drilling rigs management services.
Featured Article: Leveraged Buyout (LBO) Explained
Get a free copy of the Zacks research report on China Oilfield Services (CHOLY)
For more information about research offerings from Zacks Investment Research, visit Zacks.com
Receive News & Ratings for China Oilfield Services Daily - Enter your email address below to receive a concise daily summary of the latest news and analysts' ratings for China Oilfield Services and related companies with MarketBeat.com's FREE daily email newsletter.