Vermillion (NASDAQ:VRML) released its quarterly earnings results on Thursday. The company reported ($0.04) EPS for the quarter, meeting the consensus estimate of ($0.04), Bloomberg Earnings reports. The business had revenue of $0.71 million for the quarter. Vermillion had a negative net margin of 350.66% and a negative return on equity of 283.32%.
VRML stock opened at $0.55 on Friday. Vermillion has a 12 month low of $0.52 and a 12 month high of $2.10. The company has a debt-to-equity ratio of 1.16, a quick ratio of 1.56 and a current ratio of 1.60.
Several analysts have recently commented on VRML shares. ValuEngine upgraded shares of Vermillion from a "sell" rating to a "hold" rating in a research report on Wednesday, May 2nd. Canaccord Genuity lowered shares of Vermillion from a "buy" rating to a "hold" rating and set a $2.25 price target on the stock. in a research report on Thursday, May 24th.
About Vermillion
Vermillion, Inc, together with its subsidiaries, discovers, develops, and commercializes diagnostic and bio-analytical solutions that help physicians to diagnose, treat, and enhance gynecologic health outcomes for women primarily in the United States. The company's diagnostic tests include OVA1, a blood test for the pre-surgical identification of women who are at high risk of having a malignant ovarian tumor; and Overa, a multivariate index assay second generation test to determine the malignancy of ovarian cancer in women.
Featured Article: New Google Finance Tool and Screening Stocks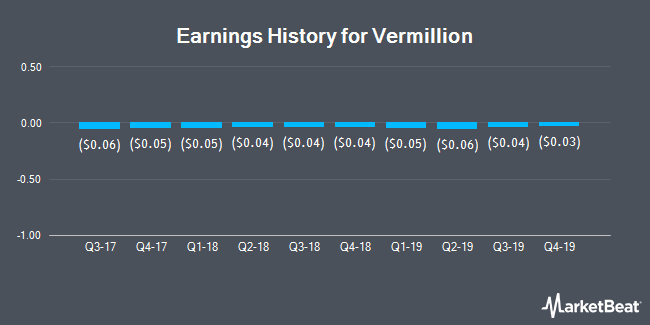 Receive News & Ratings for Vermillion Daily - Enter your email address below to receive a concise daily summary of the latest news and analysts' ratings for Vermillion and related companies with MarketBeat.com's FREE daily email newsletter.