Medley Management (NYSE:MDLY) issued its quarterly earnings results on Thursday. The asset manager reported $0.05 earnings per share for the quarter, missing analysts' consensus estimates of $0.06 by ($0.01), Bloomberg Earnings reports. The company had revenue of $15.15 million during the quarter. Medley Management had a negative net margin of 1.05% and a negative return on equity of 16.14%.
Shares of Medley Management opened at $5.35 on Friday, Marketbeat.com reports. The company has a debt-to-equity ratio of -1.39, a current ratio of 1.46 and a quick ratio of 1.46. The company has a market capitalization of $19.13 million, a P/E ratio of 11.90 and a beta of 1.25. Medley Management has a fifty-two week low of $3.10 and a fifty-two week high of $7.15.
A number of analysts recently weighed in on MDLY shares. ValuEngine raised shares of Medley Management from a "sell" rating to a "hold" rating in a report on Wednesday, May 23rd. Compass Point lowered shares of Medley Management to a "hold" rating in a report on Wednesday, May 9th.
About Medley Management
Medley Management Inc is an investment holding company and operate and control all of the business and affairs of Medley LLC and its subsidiaries. Medley Management Inc was incorporated on June 13, 2014 and is based in New York, New York.
Featured Story: Do closed-end mutual funds pay dividends?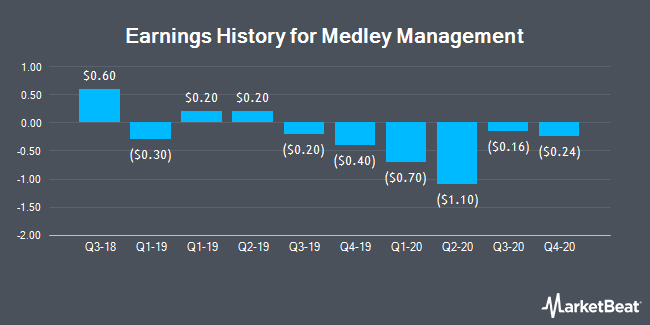 Receive News & Ratings for Medley Management Daily - Enter your email address below to receive a concise daily summary of the latest news and analysts' ratings for Medley Management and related companies with MarketBeat.com's FREE daily email newsletter.