Global Eagle Entertainment (NASDAQ:ENT) announced its earnings results on Thursday. The company reported ($0.50) earnings per share (EPS) for the quarter, missing the Zacks' consensus estimate of ($0.30) by ($0.20), Fidelity Earnings reports. Global Eagle Entertainment had a negative net margin of 43.28% and a negative return on equity of 370.92%. The firm had revenue of $165.96 million during the quarter, compared to analyst estimates of $161.11 million.
Global Eagle Entertainment traded down $0.37, reaching $2.47, during mid-day trading on Friday, Marketbeat.com reports. The company had a trading volume of 543,432 shares, compared to its average volume of 233,378. The company has a quick ratio of 1.32, a current ratio of 1.46 and a debt-to-equity ratio of -20.53. The company has a market cap of $231.29 million, a price-to-earnings ratio of -1.25 and a beta of 1.88. Global Eagle Entertainment has a 52 week low of $0.87 and a 52 week high of $3.59.
In related news, Director Jeffrey Sagansky purchased 25,000 shares of the firm's stock in a transaction on Friday, June 1st. The stock was purchased at an average cost of $2.38 per share, for a total transaction of $59,500.00. The acquisition was disclosed in a document filed with the Securities & Exchange Commission, which can be accessed through this link. Also, insider Tbo-W L.P. Searchlight II purchased 568,800 shares of the firm's stock in a transaction on Friday, May 18th. The stock was bought at an average price of $1.20 per share, with a total value of $682,560.00. Following the completion of the purchase, the insider now owns 368,800 shares of the company's stock, valued at $442,560. The disclosure for this purchase can be found here. Over the last 90 days, insiders acquired 2,313,279 shares of company stock valued at $3,661,095. Corporate insiders own 3.70% of the company's stock.
A number of equities research analysts recently issued reports on the company.
ValuEngine
lowered Global Eagle Entertainment from a "buy" rating to a "hold" rating in a research report on Wednesday.
Zacks Investment Research
lowered Global Eagle Entertainment from a "buy" rating to a "hold" rating in a research report on Tuesday, June 5th. Finally, BidaskClub raised Global Eagle Entertainment from a "hold" rating to a "buy" rating in a research report on Saturday, June 23rd. One investment analyst has rated the stock with a sell rating, three have assigned a hold rating and one has issued a buy rating to the company. Global Eagle Entertainment presently has an average rating of "Hold" and a consensus target price of $3.25.
About Global Eagle Entertainment
Global Eagle Entertainment Inc provides content, connectivity, and digital media solutions for travel industry worldwide. The company operates through two segments, Media & Content and Connectivity. The Media & Content buys, produces, manages, distributes, and provides post-production services and wholly-owned and licensed media content, video and music programming, advertising, applications, and video games for and to the airline, maritime, and other away from home non-theatrical markets.
Recommended Story: Penny Stocks, What You Need To Know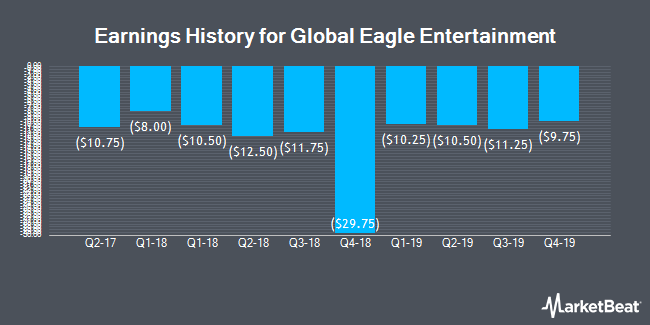 Receive News & Ratings for Global Eagle Entertainment Daily - Enter your email address below to receive a concise daily summary of the latest news and analysts' ratings for Global Eagle Entertainment and related companies with MarketBeat.com's FREE daily email newsletter.