Chuy's (NASDAQ:CHUY) released its quarterly earnings results on Thursday. The restaurant operator reported $0.38 earnings per share (EPS) for the quarter, beating the Thomson Reuters' consensus estimate of $0.37 by $0.01, Bloomberg Earnings reports. The business had revenue of $106.30 million during the quarter, compared to the consensus estimate of $106.05 million. Chuy's had a return on equity of 8.16% and a net margin of 7.33%. The firm's quarterly revenue was up 12.5% on a year-over-year basis. During the same period in the previous year, the company posted $0.31 EPS. Chuy's updated its FY18 guidance to $1.09-$1.13 EPS.
Shares of NASDAQ CHUY opened at $26.15 on Friday. The firm has a market capitalization of $518.56 million, a price-to-earnings ratio of 27.24, a P/E/G ratio of 1.56 and a beta of -0.23. Chuy's has a fifty-two week low of $18.00 and a fifty-two week high of $34.10.
In other news, VP Michael C. Hatcher sold 4,604 shares of the business's stock in a transaction on Tuesday, May 29th. The stock was sold at an average price of $29.07, for a total transaction of $133,838.28. Following the completion of the transaction, the vice president now owns 19,981 shares of the company's stock, valued at approximately $580,847.67. The transaction was disclosed in a legal filing with the Securities & Exchange Commission, which is available through this link. Also, CFO Jon W. Howie sold 5,000 shares of the business's stock in a transaction on Friday, June 1st. The stock was sold at an average price of $29.74, for a total value of $148,700.00. The disclosure for this sale can be found here. 1.40% of the stock is owned by insiders.
Several equities analysts have weighed in on the company. BidaskClub raised Chuy's from a "buy" rating to a "strong-buy" rating in a report on Friday, June 1st. Stifel Nicolaus lifted their price objective on Chuy's from $22.00 to $26.00 and gave the company a "hold" rating in a report on Wednesday, April 18th. Raymond James cut Chuy's from an "outperform" rating to a "market perform" rating in a report on Tuesday, July 17th. They noted that the move was a valuation call.
Zacks Investment Research
cut Chuy's from a "hold" rating to a "sell" rating in a report on Tuesday, July 10th. Finally, Jefferies Financial Group reaffirmed a "hold" rating and issued a $30.00 price objective on shares of Chuy's in a report on Monday, July 16th. Nine research analysts have rated the stock with a hold rating and one has issued a buy rating to the company. The company presently has a consensus rating of "Hold" and a consensus price target of $29.14.
Chuy's Company Profile
Chuy's Holdings, Inc, through its subsidiaries, owns and operates restaurants under the Chuy's name in Texas and 19 states in the Southeastern and Midwestern United States. As of December 31, 2017, the company operated 91 Chuy's restaurants in 19 states. Chuy's Holdings, Inc was founded in 1982 and is headquartered in Austin, Texas.
Featured Article: Book Value Per Share – BVPS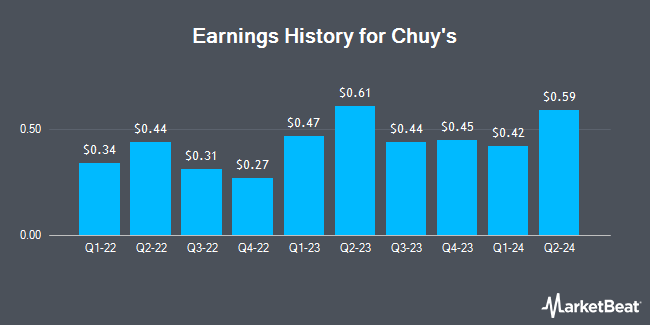 Receive News & Ratings for Chuy's Daily - Enter your email address below to receive a concise daily summary of the latest news and analysts' ratings for Chuy's and related companies with MarketBeat.com's FREE daily email newsletter.