Reis (NASDAQ:REIS) posted its quarterly earnings data on Thursday. The business services provider reported ($0.04) EPS for the quarter, missing analysts' consensus estimates of $0.01 by ($0.05), Bloomberg Earnings reports. Reis had a negative net margin of 8.45% and a positive return on equity of 1.15%. The firm had revenue of $11.98 million for the quarter, compared to analysts' expectations of $11.91 million.
REIS stock traded down $0.30 during mid-day trading on Friday, reaching $19.50. 21,200 shares of the stock traded hands, compared to its average volume of 18,106. Reis has a 52-week low of $15.95 and a 52-week high of $24.00. The firm has a market capitalization of $219.82 million, a PE ratio of 120.63 and a beta of 1.01.
A number of research firms have commented on REIS. BidaskClub raised shares of Reis from a "buy" rating to a "strong-buy" rating in a research note on Friday, July 6th. Zacks Investment Research raised shares of Reis from a "strong sell" rating to a "hold" rating in a research note on Tuesday, July 10th. ValuEngine raised shares of Reis from a "hold" rating to a "buy" rating in a research note on Thursday, July 5th. Finally, B. Riley reduced their price objective on shares of Reis to $26.00 and set a "buy" rating for the company in a research note on Tuesday, May 8th. Four research analysts have rated the stock with a hold rating and one has assigned a buy rating to the stock. The company has a consensus rating of "Hold" and an average target price of $23.50.
Reis Company Profile
Reis, Inc, through its subsidiary, Reis Services, provides commercial real estate market information and analytical tools to real estate professionals in the United States. The company maintains a proprietary database containing information on commercial properties, including apartment, office, retail, warehouse/distribution, flex/research and development, self-storage, and seniors and student housing properties in the metropolitan markets and neighborhoods.
See Also: NASDAQ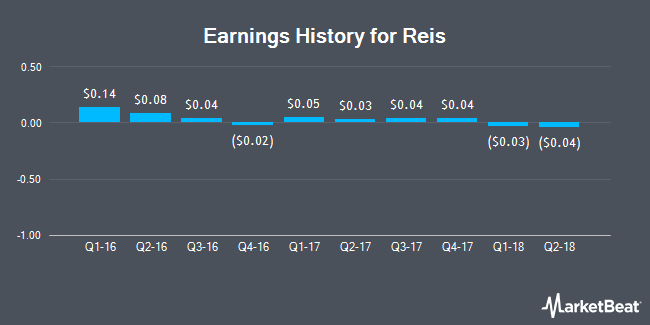 Receive News & Ratings for Reis Daily - Enter your email address below to receive a concise daily summary of the latest news and analysts' ratings for Reis and related companies with MarketBeat.com's FREE daily email newsletter.