FuelCell Energy (NASDAQ:FCEL) issued its quarterly earnings results on Wednesday. The energy company reported ($0.23) earnings per share for the quarter, missing the consensus estimate of ($0.17) by ($0.06), RTT News reports. FuelCell Energy had a negative net margin of 37.86% and a negative return on equity of 46.40%. During the same quarter in the previous year, the company posted ($0.33) EPS.
FuelCell Energy opened at $1.74 on Friday, MarketBeat Ratings reports. FuelCell Energy has a one year low of $0.95 and a one year high of $2.49. The company has a current ratio of 2.06, a quick ratio of 1.42 and a debt-to-equity ratio of 0.56. The firm has a market capitalization of $156.74 million, a PE ratio of -1.57 and a beta of 1.54.
FCEL has been the topic of several analyst reports. Zacks Investment Research downgraded shares of FuelCell Energy from a "buy" rating to a "hold" rating in a report on Monday, April 2nd. B. Riley reaffirmed a "buy" rating on shares of FuelCell Energy in a report on Friday, March 9th. ValuEngine raised shares of FuelCell Energy from a "strong sell" rating to a "sell" rating in a report on Saturday, June 2nd. Finally, Roth Capital raised shares of FuelCell Energy from a "neutral" rating to a "buy" rating and lifted their price target for the company from $2.00 to $4.00 in a report on Friday, February 9th. One research analyst has rated the stock with a sell rating, three have issued a hold rating and five have issued a buy rating to the stock. FuelCell Energy currently has an average rating of "Hold" and a consensus price target of $3.42.
About FuelCell Energy
FuelCell Energy, Inc, together with its subsidiaries, designs, manufactures, sells, installs, operates, and services stationary fuel cell power plants for distributed power generation. The company offers SureSource power plants, a tri-generation distributed hydrogen configuration that generates electricity, heat, and hydrogen for commercial, industrial, government, and utility customers; and fuel cell carbon capture solution for coal or gas-fired power plants.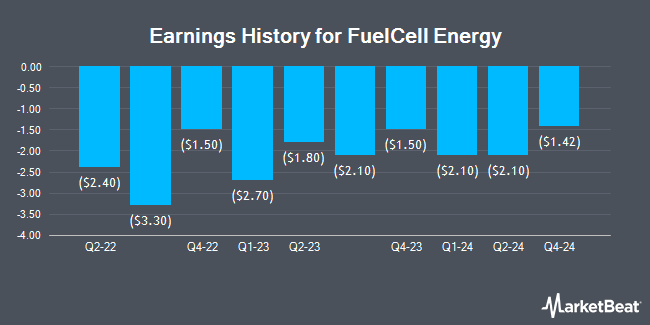 Receive News & Ratings for FuelCell Energy Daily - Enter your email address below to receive a concise daily summary of the latest news and analysts' ratings for FuelCell Energy and related companies with MarketBeat.com's FREE daily email newsletter.