Ultra Electronics (LON:ULE) has received a consensus rating of "Hold" from the seven brokerages that are presently covering the firm, MarketBeat Ratings reports. Four analysts have rated the stock with a hold rating and three have assigned a buy rating to the company. The average 1 year target price among brokerages that have covered the stock in the last year is GBX 1,759.17 ($23.60).
A number of brokerages have issued reports on ULE. Berenberg Bank raised Ultra Electronics to a "hold" rating in a research report on Friday, April 13th. Liberum Capital restated a "buy" rating and issued a GBX 1,800 ($24.15) price target on shares of Ultra Electronics in a research note on Wednesday, January 31st. Kepler Capital Markets boosted their price target on shares of Ultra Electronics from GBX 1,600 ($21.47) to GBX 1,650 ($22.14) and gave the stock a "buy" rating in a research note on Tuesday, May 15th. Finally, JPMorgan Chase & Co. downgraded shares of Ultra Electronics to a "neutral" rating and dropped their price target for the stock from GBX 1,675 ($22.47) to GBX 1,535 ($20.60) in a research note on Tuesday, March 6th.
Shares of Ultra Electronics traded down GBX 7 ($0.09), hitting GBX 1,624 ($21.79), during trading on Friday, Marketbeat Ratings reports. 185,650 shares of the stock were exchanged, compared to its average volume of 529,114. Ultra Electronics has a 12-month low of GBX 1,138 ($15.27) and a 12-month high of GBX 2,231 ($29.93).
The firm also recently declared a dividend, which was paid on Thursday, May 3rd. Shareholders of record on Thursday, April 5th were paid a GBX 35 ($0.47) dividend. This is an increase from Ultra Electronics's previous dividend of $14.60. The ex-dividend date of this dividend was Thursday, April 5th. This represents a dividend yield of 2.48%.
Ultra Electronics Company Profile
Ultra Electronics Holdings plc, together with its subsidiaries, provides various solutions and products in the defense and aerospace, security and cyber, transport, and energy markets. The company operates in three segments: Aerospace & Infrastructure, Communications & Security, and Maritime & Land.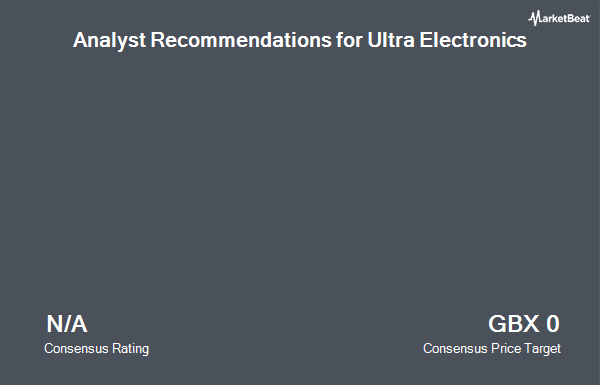 Receive News & Ratings for Ultra Electronics Daily - Enter your email address below to receive a concise daily summary of the latest news and analysts' ratings for Ultra Electronics and related companies with MarketBeat.com's FREE daily email newsletter.