Luxoft (NYSE:LXFT) issued its earnings results on Tuesday. The software maker reported $0.59 EPS for the quarter, missing the Zacks' consensus estimate of $0.60 by ($0.01), MarketWatch Earnings reports. The business had revenue of $232.90 million during the quarter, compared to analyst estimates of $228.74 million. Luxoft had a net margin of 6.72% and a return on equity of 17.07%. Luxoft's quarterly revenue was up 14.1% on a year-over-year basis. During the same quarter last year, the company earned $0.63 earnings per share.
Luxoft traded down $10.55, hitting $32.65, during mid-day trading on Thursday, Marketbeat.com reports. 2,974,677 shares of the company were exchanged, compared to its average volume of 299,876. The firm has a market cap of $1.43 billion, a PE ratio of 15.28 and a beta of 1.65. Luxoft has a 12-month low of $32.00 and a 12-month high of $66.55.
LXFT has been the subject of a number of recent research reports. VTB Capital upgraded shares of Luxoft from a "hold" rating to a "buy" rating in a research report on Tuesday, April 3rd. ValuEngine raised shares of Luxoft from a "sell" rating to a "hold" rating in a report on Wednesday, May 2nd. Zacks Investment Research raised shares of Luxoft from a "strong sell" rating to a "hold" rating in a report on Wednesday, April 18th. Credit Suisse Group dropped their price objective on shares of Luxoft from $50.00 to $46.00 and set a "hold" rating for the company in a report on Thursday, February 15th. Finally, Pivotal Research lowered shares of Luxoft from a "buy" rating to a "hold" rating and set a $48.00 price objective for the company. in a report on Wednesday, February 14th. One equities research analyst has rated the stock with a sell rating, eight have issued a hold rating and five have issued a buy rating to the company. Luxoft presently has a consensus rating of "Hold" and an average price target of $57.55.
About Luxoft
Luxoft Holding, Inc, together with its subsidiaries, provides software development services and IT solutions to multinational corporations primarily in Europe and the United States. It offers application software development, software architecture design, performance engineering, optimization and testing, process consulting, and software quality assurance services; functional specification and mock-up, product design, engineering, automated testing, maintenance, support, and performance engineering services; and IT strategy, software engineering process, and data security consulting services.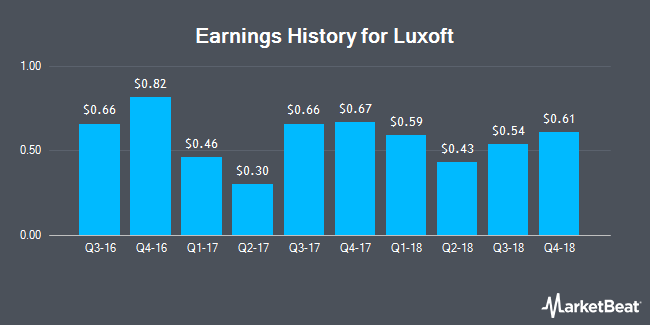 Receive News & Ratings for Luxoft Daily - Enter your email address below to receive a concise daily summary of the latest news and analysts' ratings for Luxoft and related companies with MarketBeat.com's FREE daily email newsletter.