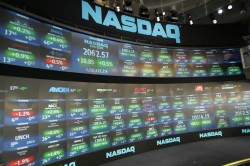 Genesis Group (OTCMKTS:ICLD) issued its quarterly earnings results on Monday. The information technology services provider reported $0.00 earnings per share for the quarter, Zacks reports. The business had revenue of $4.77 million for the quarter.
Shares of Genesis Group stock traded down $0.11 during trading hours on Wednesday, reaching $0.16. 3,996,173 shares of the company's stock were exchanged, compared to its average volume of 506,969. Genesis Group has a 52-week low of $0.06 and a 52-week high of $19.56. The company has a debt-to-equity ratio of -0.03, a current ratio of 0.39 and a quick ratio of 0.39.
About Genesis Group
InterCloud Systems, Inc provides networking orchestration and automation, for the Internet of things, software-defined networking (SDN), and network function virtualization (NFV) environments to telecommunications service provider and corporate enterprise markets in the United States and internationally.
Receive News & Ratings for Genesis Group Daily - Enter your email address below to receive a concise daily summary of the latest news and analysts' ratings for Genesis Group and related companies with MarketBeat.com's FREE daily email newsletter.