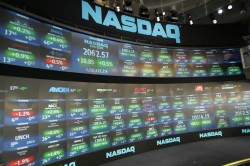 Longfin (NASDAQ:LFIN) posted its earnings results on Monday. The company reported ($0.10) EPS for the quarter, Bloomberg Earnings reports. The firm had revenue of $54.26 million during the quarter.
Shares of Longfin stock remained flat at $$28.19 on Wednesday. Longfin has a 12 month low of $4.69 and a 12 month high of $142.82.
Longfin Company Profile
Longfin Corp. operates as a finance and technology company in the United States and internationally. The company specializes in structured trade finance solutions and physical commodities finance solutions for finance houses and trading platforms. It offers Blockchain technology solutions for small and medium enterprises, processors, manufacturers, importers, and exporters.
Receive News & Ratings for Longfin Daily - Enter your email address below to receive a concise daily summary of the latest news and analysts' ratings for Longfin and related companies with MarketBeat.com's FREE daily email newsletter.