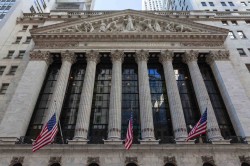 TSS (OTCMKTS:TSSI) announced its quarterly earnings data on Tuesday. The construction company reported $0.01 EPS for the quarter, Bloomberg Earnings reports. TSS had a negative return on equity of 81.00% and a net margin of 3.16%. The business had revenue of $4.85 million during the quarter.
Shares of TSS stock traded down $0.04 on Thursday, reaching $0.46. 1,000 shares of the company were exchanged, compared to its average volume of 16,936. The company has a debt-to-equity ratio of -5.50, a quick ratio of 0.67 and a current ratio of 0.70. The company has a market cap of $7.77 million, a PE ratio of 12.50 and a beta of 0.32. TSS has a 1-year low of $0.14 and a 1-year high of $0.65.
About TSS
TSS, Inc is a holding company. The Company provides various services for the planning, design, development and maintenance of mission-critical facilities and information infrastructure, as well as integration services. The Company operates through two segments: facilities and systems integration. Its facilities segment is involved in the design, project management and maintenance of data center and mission-critical business operations. Receive News & Ratings for TSS Daily - Enter your email address below to receive a concise daily summary of the latest news and analysts' ratings for TSS and related companies with MarketBeat.com's FREE daily email newsletter.