PVH (NYSE:PVH) announced a quarterly dividend on Wednesday, April 25th, Wall Street Journal reports. Stockholders of record on Thursday, May 17th will be paid a dividend of 0.0375 per share by the textile maker on Thursday, June 21st. This represents a $0.15 annualized dividend and a dividend yield of 0.09%. The ex-dividend date of this dividend is Wednesday, May 16th.
PVH has a dividend payout ratio of 1.9% meaning its dividend is sufficiently covered by earnings. Analysts expect PVH to earn $10.41 per share next year, which means the company should continue to be able to cover its $0.15 annual dividend with an expected future payout ratio of 1.4%.
Shares of PVH traded down $1.06 during midday trading on Wednesday, hitting $158.77. 611,569 shares of the company's stock traded hands, compared to its average volume of 878,626. The company has a current ratio of 1.62, a quick ratio of 0.77 and a debt-to-equity ratio of 0.55. PVH has a 1 year low of $96.85 and a 1 year high of $163.78. The firm has a market cap of $12,328.70, a PE ratio of 20.03, a P/E/G ratio of 1.34 and a beta of 0.74.
PVH (NYSE:PVH) last released its earnings results on Wednesday, March 28th. The textile maker reported $1.58 earnings per share (EPS) for the quarter, beating the consensus estimate of $1.47 by $0.11. PVH had a return on equity of 12.03% and a net margin of 6.03%. The firm had revenue of $2.50 billion for the quarter, compared to the consensus estimate of $2.35 billion. During the same period in the prior year, the firm earned $1.23 EPS. The firm's revenue was up 18.5% on a year-over-year basis. research analysts forecast that PVH will post 9.15 EPS for the current year.
Several equities analysts recently issued reports on the company. Zacks Investment Research raised PVH from a "hold" rating to a "buy" rating and set a $177.00 target price on the stock in a research report on Thursday, April 12th. Guggenheim reissued a "buy" rating and issued a $170.00 target price on shares of PVH in a research report on Wednesday, April 11th. B. Riley set a $160.00 target price on PVH and gave the company a "buy" rating in a research report on Wednesday, April 4th. Barclays reissued a "buy" rating and issued a $173.00 target price (up from $166.00) on shares of PVH in a research report on Friday, March 30th. Finally, Wells Fargo set a $180.00 target price on PVH and gave the company a "buy" rating in a research report on Thursday, March 29th. Four research analysts have rated the stock with a hold rating and seventeen have issued a buy rating to the company's stock. PVH currently has a consensus rating of "Buy" and an average price target of $159.32.
In other news, CEO Francis K. Duane sold 22,100 shares of the firm's stock in a transaction dated Wednesday, April 4th. The stock was sold at an average price of $154.77, for a total transaction of $3,420,417.00. The transaction was disclosed in a legal filing with the SEC, which can be accessed through the SEC website. Also, SVP Dana Perlman sold 527 shares of the firm's stock in a transaction dated Thursday, April 12th. The shares were sold at an average price of $160.82, for a total value of $84,752.14. The disclosure for this sale can be found here. Insiders have sold a total of 104,666 shares of company stock worth $16,375,545 over the last ninety days. 1.50% of the stock is owned by insiders.
TRADEMARK VIOLATION NOTICE: "PVH (PVH) Announces $0.04 Quarterly Dividend" was originally reported by Markets Daily and is the property of of Markets Daily. If you are accessing this news story on another domain, it was copied illegally and republished in violation of United States & international copyright legislation. The original version of this news story can be viewed at https://www.themarketsdaily.com/2018/04/25/pvh-pvh-announces-0-04-quarterly-dividend.html.
PVH Company Profile
PVH Corp. operates as an apparel company in North America and internationally. The company operates through six segments: Calvin Klein North America, Calvin Klein International, Tommy Hilfiger North America, Tommy Hilfiger International, Heritage Brands Wholesale, and Heritage Brands Retail. It designs, markets, and retails men's and women's apparel and accessories, including branded dress shirts, dresses, suits, neckwear, sportswear, jeans wear, performance and intimate apparel, underwear, swimwear, swim products, handbags, luggage products, footwear, golf apparel, sleepwear and loungewear, eyewear and fragrances, cosmetics, skincare products and toiletries, socks and tights, jewelry, watches, outerwear, small leather goods, and furnishings, as well as other related products.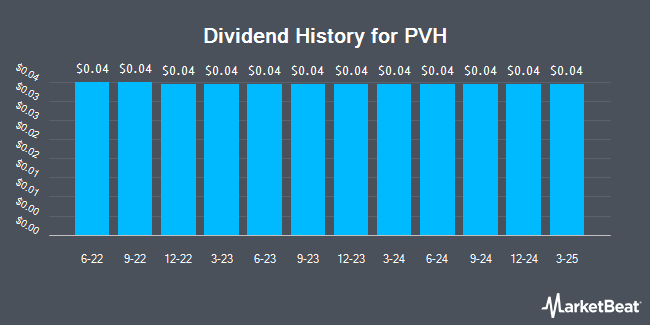 Receive News & Ratings for PVH Daily - Enter your email address below to receive a concise daily summary of the latest news and analysts' ratings for PVH and related companies with MarketBeat.com's FREE daily email newsletter.