HD Supply (NASDAQ:HDS) updated its FY19 earnings guidance on Tuesday. The company provided earnings per share guidance of $2.99-3.21 for the period, compared to the Thomson Reuters consensus earnings per share estimate of $2.95. The company issued revenue guidance of $5.76-5.91 billion, compared to the consensus revenue estimate of $5.49 billion.HD Supply also updated its Q1 guidance to $0.60-0.66 EPS.
Several research firms have commented on HDS. BidaskClub lowered HD Supply from a buy rating to a hold rating in a research report on Friday, January 5th. ValuEngine upgraded HD Supply from a hold rating to a buy rating in a research report on Tuesday, December 5th. SunTrust Banks restated a hold rating and issued a $42.00 price objective on shares of HD Supply in a research report on Thursday, December 7th. Zacks Investment Research upgraded HD Supply from a hold rating to a buy rating and set a $43.00 price objective on the stock in a research report on Thursday, December 7th. Finally, Barclays assumed coverage on HD Supply in a research report on Thursday, February 15th. They set an overweight rating and a $44.00 target price on the stock. One equities research analyst has rated the stock with a sell rating, fourteen have given a hold rating and four have assigned a buy rating to the stock. The stock has an average rating of Hold and a consensus price target of $39.21.
HD Supply (HDS) opened at $38.00 on Tuesday. HD Supply has a 52-week low of $28.97 and a 52-week high of $42.25. The stock has a market capitalization of $6,983.36, a P/E ratio of 6.93, a PEG ratio of 0.66 and a beta of 1.31. The company has a debt-to-equity ratio of 1.40, a quick ratio of 1.80 and a current ratio of 2.80.
HD Supply (NASDAQ:HDS) last announced its earnings results on Tuesday, March 13th. The industrial products company reported $0.49 earnings per share (EPS) for the quarter, beating analysts' consensus estimates of $0.44 by $0.05. HD Supply had a return on equity of 41.89% and a net margin of 16.55%. The firm had revenue of $1.18 billion for the quarter, compared to analyst estimates of $1.18 billion. During the same quarter last year, the firm posted $0.44 EPS. The business's revenue was up 9.0% on a year-over-year basis. analysts expect that HD Supply will post 2.27 earnings per share for the current fiscal year.
COPYRIGHT VIOLATION WARNING: "HD Supply (HDS) Updates FY19 Earnings Guidance" was first posted by Markets Daily and is the property of of Markets Daily. If you are accessing this story on another publication, it was illegally copied and reposted in violation of US and international trademark & copyright law. The legal version of this story can be read at https://www.themarketsdaily.com/2018/03/13/hd-supply-hds-updates-fy19-earnings-guidance.html.
HD Supply Company Profile
HD Supply Holdings, Inc is an industrial distributor in North America. The Company's segments include Facilities Maintenance, Construction & Industrial-White Cap, and Corporate. As of January 29, 2017, the Company operated through approximately 500 locations across 48 states in the United States and six Canadian provinces.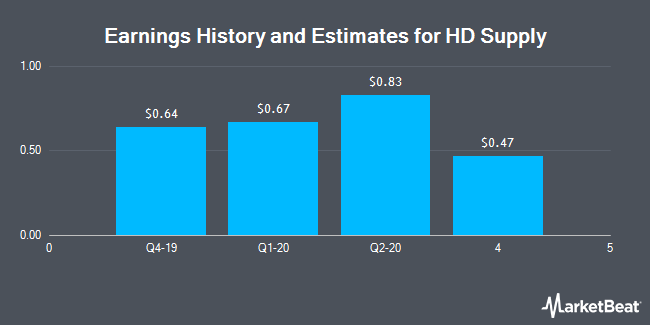 Receive News & Ratings for HD Supply Daily - Enter your email address below to receive a concise daily summary of the latest news and analysts' ratings for HD Supply and related companies with MarketBeat.com's FREE daily email newsletter.