Savaria Co. (TSE:SIS) – Analysts at Desjardins issued their Q1 2018 EPS estimates for Savaria in a report released on Friday. Desjardins analyst F. Tremblay expects that the company will post earnings of $0.11 per share for the quarter. Desjardins also issued estimates for Savaria's Q2 2018 earnings at $0.14 EPS, Q3 2018 earnings at $0.15 EPS, Q4 2018 earnings at $0.17 EPS, FY2018 earnings at $0.56 EPS and FY2019 earnings at $0.73 EPS.
Separately, National Bank Financial increased their price target on Savaria from C$18.50 to C$20.00 and gave the company an "outperform" rating in a report on Friday.
Shares of Savaria (
TSE:SIS
) opened at C$18.37 on Monday. Savaria has a twelve month low of C$11.30 and a twelve month high of C$19.24. The firm has a market capitalization of $757.77, a price-to-earnings ratio of 51.03 and a beta of 0.38.
The business also recently declared a monthly dividend, which will be paid on Friday, March 16th. Investors of record on Friday, March 2nd will be issued a dividend of $0.03 per share. The ex-dividend date is Thursday, March 1st. This represents a $0.36 annualized dividend and a yield of 1.96%. Savaria's payout ratio is presently 80.56%.
TRADEMARK VIOLATION NOTICE: This story was reported by Markets Daily and is the sole property of of Markets Daily. If you are reading this story on another site, it was illegally stolen and reposted in violation of US & international copyright and trademark legislation. The original version of this story can be read at https://www.themarketsdaily.com/2018/03/12/savaria-co-sis-forecasted-to-post-q1-2018-earnings-of-0-11-per-share.html.
Savaria Company Profile
Savaria Corporation is a Canada-based company, which offers a range of stairlifts, platform lifts, and residential and commercial elevators. The Company operates through two segments: Accessibility and Adapted Vehicles. The Accessibility segment designs, manufactures, distributes and installs accessibility products, such as stairlifts for both straight and curved stairs, vertical and inclined platform lifts and elevators for home and commercial use.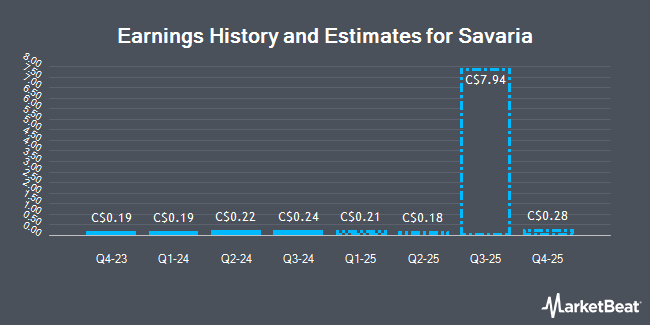 Receive News & Ratings for Savaria Daily - Enter your email address below to receive a concise daily summary of the latest news and analysts' ratings for Savaria and related companies with MarketBeat.com's FREE daily email newsletter.