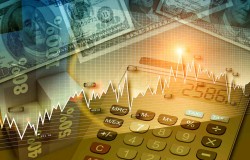 Clarkson (LON:CKN) had its price target raised by equities research analysts at Liberum Capital from GBX 3,300 ($45.59) to GBX 3,600 ($49.74) in a research report issued on Monday. The firm presently has a "buy" rating on the stock. Liberum Capital's price objective suggests a potential upside of 9.42% from the company's current price.
Separately, JPMorgan Chase & Co. increased their target price on Clarkson from GBX 3,223 ($44.53) to GBX 3,427 ($47.35) and gave the stock an "overweight" rating in a research note on Monday, January 8th.
Shares of Clarkson (LON CKN) opened at GBX 3,290 ($45.45) on Monday. Clarkson has a 52 week low of GBX 2,454 ($33.90) and a 52 week high of GBX 3,475 ($48.01). The firm has a market capitalization of $994.67 and a price-to-earnings ratio of 2,570.31.
ILLEGAL ACTIVITY WARNING: This piece was reported by Markets Daily and is owned by of Markets Daily. If you are viewing this piece on another website, it was illegally stolen and republished in violation of United States and international trademark & copyright laws. The legal version of this piece can be viewed at https://www.themarketsdaily.com/2018/03/12/clarkson-ckn-price-target-increased-to-gbx-3600-by-analysts-at-liberum-capital.html.
Clarkson Company Profile
Clarkson PLC is a United Kingdom-based company, which provides integrated shipping services. The Company's segments include Broking, Financial, Support and Research. The Company's Broking division represents services provided to ship owners and charterers in the transportation by sea of a range of cargoes.
Receive News & Ratings for Clarkson Daily - Enter your email address below to receive a concise daily summary of the latest news and analysts' ratings for Clarkson and related companies with MarketBeat.com's FREE daily email newsletter.