TRANSAT AT Inc (TSE:TRZ) – Stock analysts at Cormark increased their Q3 2018 earnings per share estimates for TRANSAT AT in a research report issued to clients and investors on Tuesday. Cormark analyst D. Tyerman now expects that the company will post earnings per share of $0.59 for the quarter, up from their prior forecast of $0.58. Cormark also issued estimates for TRANSAT AT's Q4 2018 earnings at $1.11 EPS and Q4 2019 earnings at $1.24 EPS.
A number of other brokerages have also recently issued reports on TRZ. National Bank Financial upped their target price on TRANSAT AT from C$13.50 to C$15.00 and gave the stock an "outperform" rating in a report on Wednesday, December 20th. Scotiabank upped their target price on TRANSAT AT from C$10.00 to C$10.50 and gave the stock a "sector perform" rating in a report on Friday, December 15th. Three equities research analysts have rated the stock with a hold rating and five have assigned a buy rating to the stock. TRANSAT AT currently has an average rating of "Buy" and a consensus price target of C$11.93.
Shares of TRANSAT AT (
TSE TRZ
) traded down C$0.17 on Wednesday, reaching C$10.72. The company's stock had a trading volume of 26,990 shares, compared to its average volume of 82,576. TRANSAT AT has a fifty-two week low of C$5.07 and a fifty-two week high of C$11.82. The firm has a market cap of $405.64, a PE ratio of 3.03 and a beta of 0.43.
TRANSAT AT (TSE:TRZ) last issued its earnings results on Thursday, December 14th. The company reported C$1.24 earnings per share (EPS) for the quarter, topping analysts' consensus estimates of C$1.01 by C$0.23. TRANSAT AT had a negative return on equity of 7.84% and a negative net margin of 0.70%.
In other news, Director Bernard Bussières sold 11,000 shares of the stock in a transaction dated Tuesday, January 23rd. The stock was sold at an average price of C$10.90, for a total value of C$119,900.00. Also, Director Jean-Pierre Delisle purchased 4,800 shares of the firm's stock in a transaction dated Thursday, December 14th. The stock was bought at an average cost of C$10.30 per share, with a total value of C$49,440.00. In the last three months, insiders sold 462,125 shares of company stock valued at $5,081,868.
WARNING: "TRANSAT AT Inc (TRZ) Forecasted to Post Q3 2018 Earnings of $0.59 Per Share" was first reported by Markets Daily and is the sole property of of Markets Daily. If you are reading this report on another domain, it was illegally copied and reposted in violation of international trademark and copyright laws. The correct version of this report can be read at https://www.themarketsdaily.com/2018/02/15/transat-at-inc-trz-forecasted-to-post-q3-2018-earnings-of-0-59-per-share.html.
About TRANSAT AT
Transat A.T. Inc operates as an integrated tour operator primarily in the Americas and Europe. It develops and markets holiday travel services in package and air-only formats in approximately 50 countries. The company also operates as an outgoing and incoming tour operator by bundling services bought in Canada and abroad, and reselling them in Canada, France, the United Kingdom, and 10 European countries directly or through intermediaries.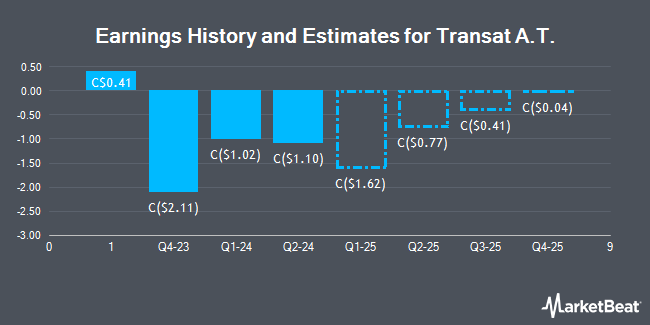 Receive News & Ratings for TRANSAT AT Daily - Enter your email address below to receive a concise daily summary of the latest news and analysts' ratings for TRANSAT AT and related companies with MarketBeat.com's FREE daily email newsletter.