National Grid (LON:NG) received a GBX 1,050 ($14.51) price objective from stock analysts at Morgan Stanley in a research report issued on Tuesday. The firm currently has a "buy" rating on the stock. Morgan Stanley's price objective indicates a potential upside of 40.88% from the stock's previous close.
A number of other equities research analysts also recently issued reports on NG. JPMorgan Chase & Co. restated an "overweight" rating and set a GBX 1,060 ($14.64) price objective on shares of National Grid in a research report on Thursday, October 26th. UBS Group set a GBX 830 ($11.47) price objective on National Grid and gave the company a "sell" rating in a research report on Monday, January 22nd. Deutsche Bank upgraded National Grid to a "hold" rating and decreased their price objective for the company from GBX 900 ($12.43) to GBX 850 ($11.74) in a research report on Wednesday, December 6th. Bank of America set a GBX 1,140 ($15.75) target price on National Grid and gave the company a "buy" rating in a research note on Wednesday, November 29th. Finally, Credit Suisse Group raised National Grid to a "neutral" rating and set a GBX 860 ($11.88) target price on the stock in a research note on Monday, November 27th. Two equities research analysts have rated the stock with a sell rating, seven have assigned a hold rating and seven have given a buy rating to the company. The company currently has a consensus rating of "Hold" and a consensus target price of GBX 970.94 ($13.41).
Shares of National Grid (LON NG) opened at GBX 745.30 ($10.30) on Tuesday. National Grid has a 52-week low of GBX 736.80 ($10.18) and a 52-week high of GBX 1,097 ($15.16). The stock has a market capitalization of $25,150.00 and a P/E ratio of 1,552.71.
In other news, insider Mark Williamson acquired 43,128 shares of the company's stock in a transaction that occurred on Thursday, February 1st. The shares were bought at an average price of GBX 805 ($11.12) per share, with a total value of £347,180.40 ($479,663.44). Also, insider Peter Gershon acquired 6,500 shares of the company's stock in a transaction that occurred on Tuesday, February 13th. The stock was purchased at an average cost of GBX 743 ($10.27) per share, for a total transaction of £48,295 ($66,724.23). In the last ninety days, insiders have bought 49,663 shares of company stock worth $39,577,984.
ILLEGAL ACTIVITY NOTICE: "National Grid (NG) Given a GBX 1,050 Price Target by Morgan Stanley Analysts" was first posted by Markets Daily and is the sole property of of Markets Daily. If you are reading this article on another publication, it was illegally copied and reposted in violation of US & international trademark and copyright legislation. The legal version of this article can be viewed at https://www.themarketsdaily.com/2018/02/15/national-grid-ng-given-a-gbx-1050-price-target-by-morgan-stanley-analysts.html.
About National Grid
National Grid plc is an electricity and gas utility company focused on transmission and distribution activities in electricity and gas in both the United Kingdom and the United States. The Company's segments include UK Electricity Transmission, which is engaged in high voltage electricity transmission networks in Great Britain; UK Gas Transmission, which is the gas transmission network in Great Britain and United Kingdom liquefied natural gas (LNG) storage activities; UK Gas Distribution, which includes approximately four of the eight regional networks of Great Britain's gas distribution system, and US Regulated, which includes gas distribution networks, electricity distribution networks and high voltage electricity transmission networks in New York, and New England and electricity generation facilities in New York.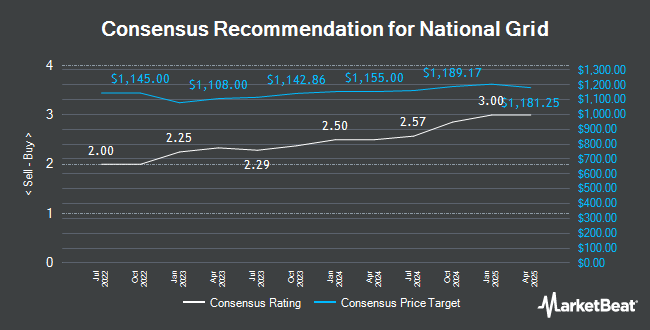 Receive News & Ratings for National Grid Daily - Enter your email address below to receive a concise daily summary of the latest news and analysts' ratings for National Grid and related companies with MarketBeat.com's FREE daily email newsletter.