Kimball International Inc (NASDAQ:KBAL) announced a quarterly dividend on Wednesday, February 14th, Wall Street Journal reports. Stockholders of record on Friday, March 23rd will be paid a dividend of 0.07 per share on Friday, April 13th. This represents a $0.28 annualized dividend and a dividend yield of 1.71%. The ex-dividend date of this dividend is Thursday, March 22nd.
Shares of Kimball International (KBAL) opened at $16.41 on Thursday. The firm has a market capitalization of $617.36, a P/E ratio of 15.39 and a beta of 1.49. Kimball International has a fifty-two week low of $15.40 and a fifty-two week high of $20.97.
Kimball International (NASDAQ:KBAL) last announced its quarterly earnings results on Wednesday, January 31st. The company reported $0.31 EPS for the quarter. The business had revenue of $173.67 million for the quarter. Kimball International had a return on equity of 22.51% and a net margin of 5.41%.
Separately, BidaskClub lowered Kimball International from a "buy" rating to a "hold" rating in a research note on Thursday, January 25th.
COPYRIGHT VIOLATION NOTICE: This story was first published by Markets Daily and is owned by of Markets Daily. If you are accessing this story on another site, it was copied illegally and reposted in violation of U.S. and international copyright & trademark law. The original version of this story can be viewed at https://www.themarketsdaily.com/2018/02/15/kimball-international-inc-kbal-announces-0-07-quarterly-dividend.html.
Kimball International Company Profile
Kimball International, Inc creates design driven furnishings. The Company sells a portfolio of furniture products and services under three brands, which include Kimball Office, National Office Furniture, and Kimball Hospitality. The Company's portfolio offers solutions for the workplace, learning, healing, and hospitality environments.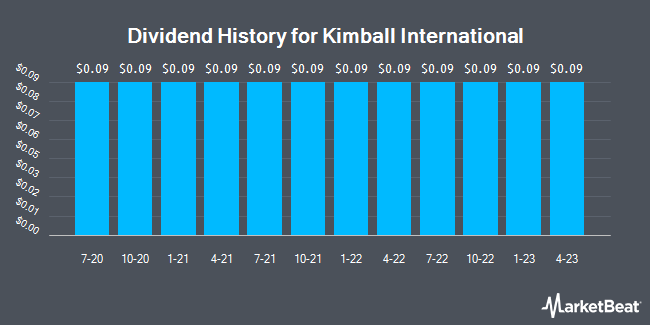 Receive News & Ratings for Kimball International Daily - Enter your email address below to receive a concise daily summary of the latest news and analysts' ratings for Kimball International and related companies with MarketBeat.com's FREE daily email newsletter.