Capita (LON:CPI) had its price target lowered by Credit Suisse Group from GBX 455 ($6.29) to GBX 187 ($2.58) in a report released on Wednesday. Credit Suisse Group currently has a neutral rating on the stock.
Other research analysts have also recently issued reports about the company. Shore Capital reissued a sell rating on shares of Capita in a research report on Monday, October 23rd. Peel Hunt reissued a hold rating and issued a GBX 562 ($7.76) target price on shares of Capita in a research report on Thursday, December 14th. Deutsche Bank dropped their target price on Capita from GBX 580 ($8.01) to GBX 450 ($6.22) and set a hold rating on the stock in a research report on Friday, December 22nd. Royal Bank of Canada dropped their target price on Capita from GBX 500 ($6.91) to GBX 185 ($2.56) and set a sector performer rating on the stock in a research report on Thursday, February 1st. Finally, HSBC cut Capita to a hold rating and dropped their target price for the stock from GBX 640 ($8.84) to GBX 200 ($2.76) in a research report on Wednesday, February 7th. Two investment analysts have rated the stock with a sell rating, ten have assigned a hold rating and three have assigned a buy rating to the company. Capita currently has an average rating of Hold and a consensus price target of GBX 404.80 ($5.59).
Capita (CPI) traded down GBX 7.10 ($0.10) during trading on Wednesday, hitting GBX 182.40 ($2.52). The company had a trading volume of 2,770,000 shares, compared to its average volume of 7,580,000. Capita has a 12 month low of GBX 151.52 ($2.09) and a 12 month high of GBX 721 ($9.96). The stock has a market capitalization of $1,220.00 and a PE ratio of 18,240.00.
COPYRIGHT VIOLATION WARNING: This report was originally published by Markets Daily and is the property of of Markets Daily. If you are reading this report on another site, it was illegally copied and republished in violation of international copyright and trademark legislation. The correct version of this report can be read at https://www.themarketsdaily.com/2018/02/15/capita-cpi-pt-lowered-to-gbx-187-at-credit-suisse-group.html.
About Capita
Capita PLC is a United Kingdom-based company, which creates and delivers services in business process management. The Company's segments include Digital & Software Solutions, Integrated Services, Local Government, Property & Health, Workplace Services, IT Enterprise Services, Customer Management, Capita Europe and Insurance & Benefits Services.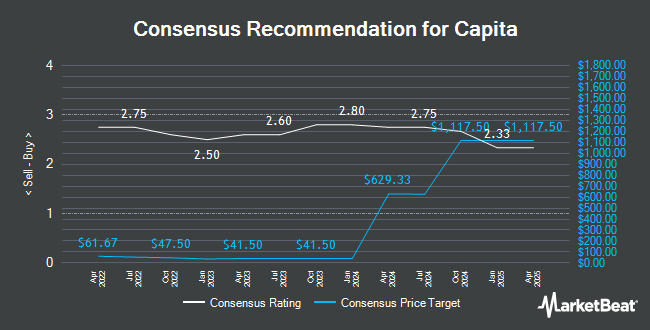 Receive News & Ratings for Capita Daily - Enter your email address below to receive a concise daily summary of the latest news and analysts' ratings for Capita and related companies with MarketBeat.com's FREE daily email newsletter.