AeroGrow International (OTCMKTS:AERO) posted its earnings results on Tuesday. The company reported $0.01 earnings per share (EPS) for the quarter, Bloomberg Earnings reports. The company had revenue of $17.35 million during the quarter. AeroGrow International had a negative net margin of 0.39% and a negative return on equity of 1.04%.
AeroGrow International (OTCMKTS AERO) opened at $2.49 on Thursday. AeroGrow International has a fifty-two week low of $2.10 and a fifty-two week high of $3.62. The firm has a market cap of $86.51, a price-to-earnings ratio of 31.50 and a beta of 0.60.
In other AeroGrow International news, Director Jack Jonas Walker sold 20,400 shares of AeroGrow International stock in a transaction on Monday, December 18th. The shares were sold at an average price of $2.44, for a total value of $49,776.00. The transaction was disclosed in a legal filing with the Securities & Exchange Commission, which is available at this hyperlink. 12.82% of the stock is currently owned by insiders.
WARNING: This news story was originally published by Markets Daily and is owned by of Markets Daily. If you are viewing this news story on another publication, it was illegally copied and republished in violation of U.S. & international copyright and trademark law. The original version of this news story can be read at https://www.themarketsdaily.com/2018/02/15/aerogrow-international-aero-issues-earnings-results.html.
AeroGrow International Company Profile
AeroGrow International, Inc is a developer, marketer, direct-seller and wholesaler of indoor garden systems designed for consumer use in the gardening, cooking, healthy eating, and home and office decor markets. The Company offers multiple lines of indoor gardens, grow lights, nutrient formula, over 40 seed pod kits, and various cooking, gardening and decor accessories, in the United States and Canada, as well as selected countries in Europe, Asia and Australia.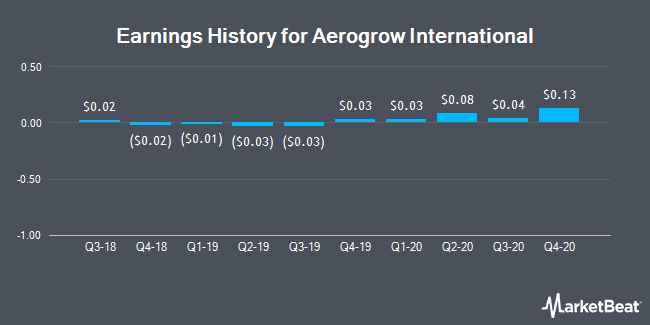 Receive News & Ratings for AeroGrow International Daily - Enter your email address below to receive a concise daily summary of the latest news and analysts' ratings for AeroGrow International and related companies with MarketBeat.com's FREE daily email newsletter.