Citigroup reiterated their sell rating on shares of Serco Group (LON:SRP) in a research report report published on Wednesday. Citigroup currently has a GBX 87 ($1.18) price target on the stock.
Several other analysts also recently commented on SRP. Credit Suisse Group downgraded Serco Group to an underperform rating and reduced their target price for the company from GBX 120 ($1.63) to GBX 85 ($1.15) in a research note on Wednesday, January 3rd. Numis Securities restated a hold rating and issued a GBX 110 ($1.49) target price on shares of Serco Group in a research note on Thursday, December 14th. JPMorgan Chase & Co. restated a neutral rating and issued a GBX 142 ($1.93) target price on shares of Serco Group in a research note on Thursday, December 14th. Liberum Capital restated a sell rating and issued a GBX 100 ($1.36) target price on shares of Serco Group in a research note on Monday, November 20th. Finally, Peel Hunt reduced their target price on Serco Group from GBX 123 ($1.67) to GBX 96 ($1.30) and set a hold rating for the company in a research note on Friday, December 15th. Three investment analysts have rated the stock with a sell rating, seven have given a hold rating and three have issued a buy rating to the stock. Serco Group has an average rating of Hold and an average target price of GBX 123.58 ($1.68).
Shares of Serco Group (SRP) traded down GBX 0.45 ($0.01) on Wednesday, hitting GBX 98.60 ($1.34). The stock had a trading volume of 3,083,013 shares, compared to its average volume of 3,110,000. The firm has a market cap of $1,100.00 and a P/E ratio of -1,972.00. Serco Group has a 12 month low of GBX 90.40 ($1.23) and a 12 month high of GBX 151.10 ($2.05).
In other Serco Group news, insider Angus Cockburn sold 27,197 shares of Serco Group stock in a transaction that occurred on Tuesday, December 19th. The shares were sold at an average price of GBX 97 ($1.32), for a total transaction of £26,381.09 ($35,775.82).
COPYRIGHT VIOLATION WARNING: This article was posted by Markets Daily and is the property of of Markets Daily. If you are reading this article on another publication, it was copied illegally and republished in violation of United States & international trademark & copyright law. The original version of this article can be viewed at https://www.themarketsdaily.com/2018/01/12/serco-group-srp-rating-reiterated-by-citigroup.html.
About Serco Group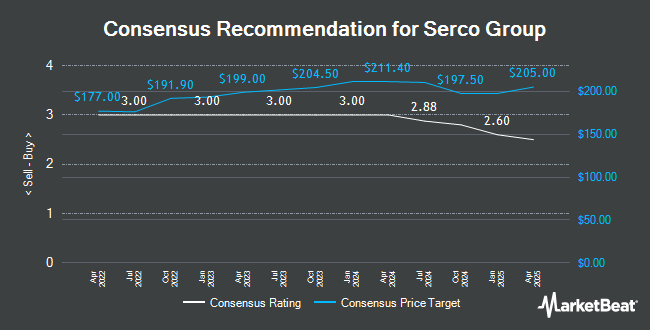 Receive News & Ratings for Serco Group Daily - Enter your email address below to receive a concise daily summary of the latest news and analysts' ratings for Serco Group and related companies with MarketBeat.com's FREE daily email newsletter.