Leucrotta Exploration (CVE:LXE) had its target price hoisted by National Bank Financial from C$2.00 to C$2.25 in a research note released on Tuesday morning. The brokerage currently has an outperform rating on the oil and natural gas company's stock.
Several other research firms have also recently weighed in on LXE. Eight Capital set a C$2.10 price target on shares of Leucrotta Exploration and gave the company a neutral rating in a report on Wednesday, September 27th. BMO Capital Markets set a C$2.00 price target on shares of Leucrotta Exploration and gave the company a market perform rating in a report on Wednesday, October 25th. Two research analysts have rated the stock with a hold rating and six have assigned a buy rating to the stock. The stock presently has a consensus rating of Buy and an average target price of C$2.49.
Leucrotta Exploration (CVE:LXE) opened at C$1.71 on Tuesday. The firm has a market cap of $332.81, a PE ratio of -57.00 and a beta of 0.95. Leucrotta Exploration has a fifty-two week low of C$1.43 and a fifty-two week high of C$2.55.
In other Leucrotta Exploration news, insider Gmt Capital Corp bought 1,364,500 shares of the firm's stock in a transaction on Tuesday, October 24th. The shares were purchased at an average price of C$1.22 per share, for a total transaction of C$1,664,690.00.
ILLEGAL ACTIVITY WARNING: This article was first posted by Markets Daily and is owned by of Markets Daily. If you are accessing this article on another website, it was illegally stolen and reposted in violation of United States and international copyright and trademark law. The correct version of this article can be accessed at https://www.themarketsdaily.com/2018/01/12/national-bank-financial-boosts-leucrotta-exploration-lxe-price-target-to-c2-25.html.
Leucrotta Exploration Company Profile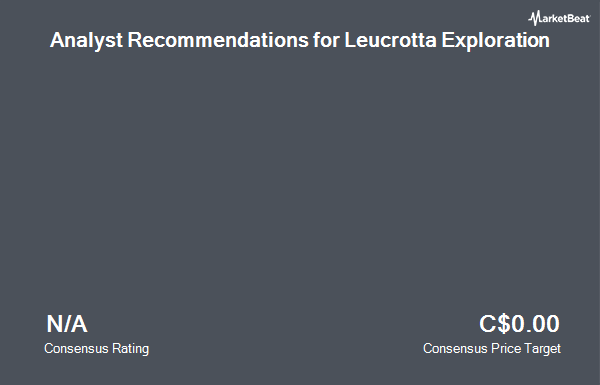 Receive News & Ratings for Leucrotta Exploration Daily - Enter your email address below to receive a concise daily summary of the latest news and analysts' ratings for Leucrotta Exploration and related companies with MarketBeat.com's FREE daily email newsletter.