Canaccord Genuity upgraded shares of Mattioli Woods (LON:MTW) to a buy rating in a research note issued to investors on Monday morning. Canaccord Genuity currently has GBX 840 ($11.39) price target on the stock.
A number of other brokerages have also commented on MTW. Canaccord Genuity Group restated a hold rating and set a GBX 840 ($11.39) price objective on shares of Mattioli Woods in a report on Friday, November 3rd. Shore Capital restated a hold rating on shares of Mattioli Woods in a report on Monday. Four investment analysts have rated the stock with a hold rating and one has given a buy rating to the company. The company presently has a consensus rating of Hold and an average price target of GBX 816.25 ($11.07).
Shares of Mattioli Woods (LON:MTW) opened at GBX 785 ($10.65) on Monday. Mattioli Woods has a twelve month low of GBX 750 ($10.17) and a twelve month high of GBX 872 ($11.83). The company has a market cap of $201.49 and a price-to-earnings ratio of 3,140.00.
In related news, insider Murray Beveridge Smith sold 8,605 shares of the firm's stock in a transaction on Wednesday, January 3rd. The shares were sold at an average price of GBX 760 ($10.31), for a total value of £65,398 ($88,687.28). Also, insider Nathan James McLean Imlach bought 76 shares of the firm's stock in a transaction that occurred on Friday, October 27th. The stock was acquired at an average cost of GBX 820 ($11.12) per share, with a total value of £623.20 ($845.13).
TRADEMARK VIOLATION WARNING: This piece was first reported by Markets Daily and is owned by of Markets Daily. If you are reading this piece on another site, it was illegally copied and reposted in violation of international copyright & trademark legislation. The correct version of this piece can be viewed at https://www.themarketsdaily.com/2018/01/11/mattioli-woods-mtw-raised-to-buy-at-canaccord-genuity.html.
Mattioli Woods Company Profile
Mattioli Woods plc is engaged in providing pensions consultancy and administration services primarily to owner-managers, senior executives and professional persons in the United Kingdom. It offers a range of services namely wealth management, employee benefits and intermediary services. Wealth management services include: financial planning, which provide wealth building and trust planning; investments, which include portfolio management, structured products and individual savings account (ISA); pension, which provide self-invested personnel pension and small Self-Administered Scheme(SSAS); property, which includes real estate investment trust (REIT), mortgage advice and legal services, and Protection, which includes life insurance and income protection.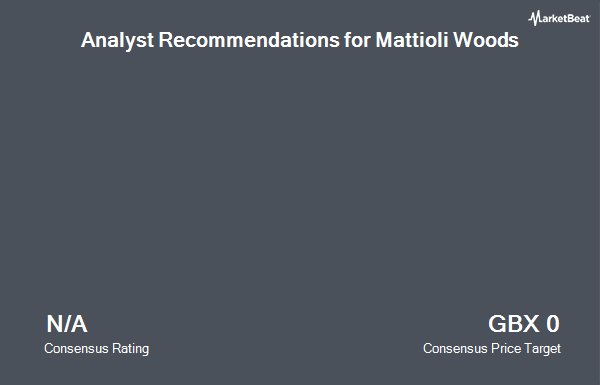 Receive News & Ratings for Mattioli Woods Daily - Enter your email address below to receive a concise daily summary of the latest news and analysts' ratings for Mattioli Woods and related companies with MarketBeat.com's FREE daily email newsletter.