Lennar Co. (NYSE:LEN.B) declared a quarterly dividend on Thursday, January 11th, RTT News reports. Investors of record on Friday, January 26th will be paid a dividend of 0.04 per share by the construction company on Friday, February 9th. This represents a $0.16 annualized dividend and a yield of 0.29%.
Shares of Lennar (NYSE:LEN.B) traded up $1.50 during trading hours on Thursday, reaching $56.10. 221,800 shares of the company traded hands, compared to its average volume of 181,934. Lennar has a one year low of $34.24 and a one year high of $56.71. The stock has a market capitalization of $16,270.00, a price-to-earnings ratio of 16.17 and a beta of 1.36. The company has a debt-to-equity ratio of 0.72, a current ratio of 7.76 and a quick ratio of 0.59.
Lennar (NYSE:LEN.B) last posted its quarterly earnings results on Wednesday, January 10th. The construction company reported $1.29 earnings per share for the quarter, missing the consensus estimate of $1.48 by ($0.19). Lennar had a return on equity of 12.37% and a net margin of 6.65%. During the same quarter in the prior year, the company earned $1.34 earnings per share.
ILLEGAL ACTIVITY NOTICE: "Lennar Co. (LEN.B) to Issue Quarterly Dividend of $0.04" was reported by Markets Daily and is owned by of Markets Daily. If you are reading this story on another publication, it was illegally stolen and reposted in violation of international copyright and trademark law. The correct version of this story can be viewed at https://www.themarketsdaily.com/2018/01/11/lennar-co-len-b-to-issue-quarterly-dividend-of-0-04.html.
Lennar Company Profile
Lennar Corporation is a provider of real estate related financial services, commercial real estate, investment management and finance company. The Company is a homebuilder that operates in various states. Its segments include Homebuilding East, Homebuilding Central, Homebuilding West, Lennar Financial Services, Rialto and Lennar Multifamily.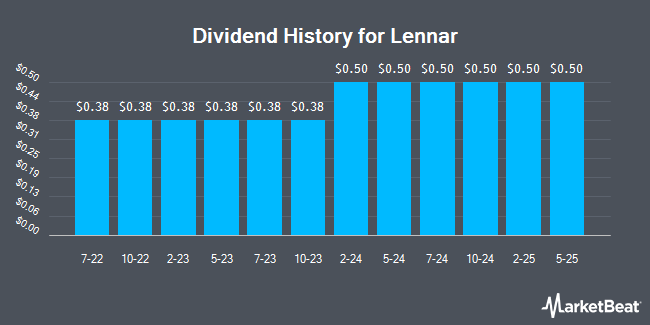 Receive News & Ratings for Lennar Daily - Enter your email address below to receive a concise daily summary of the latest news and analysts' ratings for Lennar and related companies with MarketBeat.com's FREE daily email newsletter.