Lonmin (LON:LMI) had its price target upped by equities researchers at Peel Hunt from GBX 85 ($1.15) to GBX 95 ($1.29) in a research report issued to clients and investors on Wednesday. The firm currently has a "hold" rating on the mining company's stock. Peel Hunt's price objective would indicate a potential upside of 9.13% from the stock's current price.
LMI has been the topic of several other research reports. Liberum Capital reaffirmed a "sell" rating and set a GBX 15 ($0.20) target price on shares of Lonmin in a research note on Wednesday, October 18th. Barclays lifted their target price on shares of Lonmin from GBX 55 ($0.75) to GBX 80 ($1.08) and gave the stock an "underweight" rating in a research note on Tuesday, October 24th. Shore Capital reaffirmed a "not rated" rating on shares of Lonmin in a research note on Friday, November 3rd. Finally, Shore Capital Group reaffirmed a "not rated" rating on shares of Lonmin in a research note on Friday, November 3rd. Three analysts have rated the stock with a sell rating and four have issued a hold rating to the stock. The company presently has an average rating of "Hold" and a consensus target price of GBX 83.50 ($1.13).
Shares of Lonmin (LMI) opened at GBX 87.05 ($1.18) on Wednesday. Lonmin has a one year low of GBX 55.75 ($0.76) and a one year high of GBX 186.75 ($2.53). The stock has a market cap of $246.65 and a price-to-earnings ratio of -64.01.
TRADEMARK VIOLATION NOTICE: This story was originally published by Markets Daily and is owned by of Markets Daily. If you are viewing this story on another website, it was illegally copied and republished in violation of United States & international trademark & copyright law. The original version of this story can be viewed at https://www.themarketsdaily.com/2018/01/10/lonmin-lmi-pt-raised-to-gbx-95.html.
About Lonmin
Lonmin Plc is a producer of platinum group metals (PGMs). The Company is engaged in the discovery, extraction, refining and marketing of PGMs. The Company's segments include PGM Operations, Evaluation, Exploration and Other. Its geographical segments include The Americas, Asia, Europe and South Africa.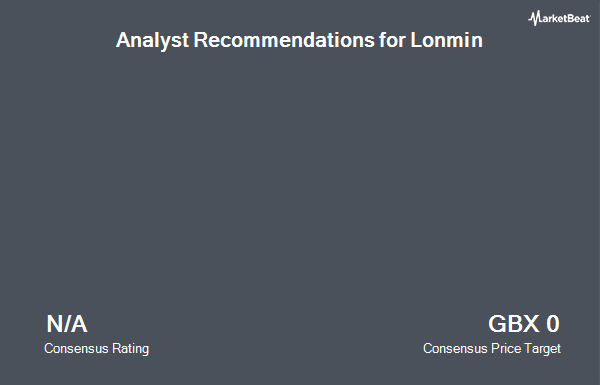 Receive News & Ratings for Lonmin Daily - Enter your email address below to receive a concise daily summary of the latest news and analysts' ratings for Lonmin and related companies with MarketBeat.com's FREE daily email newsletter.